Menu options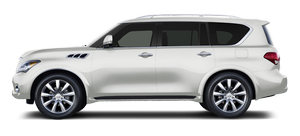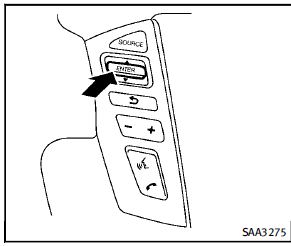 The start menu can be displayed using the menu control switch on the steering-wheelmounted controls. 1. While the MAP or STATUS screen is displayed, push and hold the menu control switch until the "Menu Options" screen appears. 2. Highlight the preferred item by tilting the menu control switch up or down, and then push the menu control switch to select it.
Available items
Destination/Route:
These items are for the navigation system. See the separate Navigation System Owner's Manual for details. Info: Displays the information screen. It is the same screen that appears when you push the INFO button. Settings: Displays the settings screen. It is the same screen that appears when you push the SETTING button.
See also:
Small children
Children that are over 1 year old and weigh at least 20 lbs (9 kg) should remain in a rear-facing child restraint as long as possible up to the height or weight limit of the child restraint. Forward-f ...
The Inside
What our G37's gray cabin lacked in finishes, it made up for in materials quality. Padded surfaces run all the way down to foot level, with soft-touch areas in all the places your knees, elbows or ...
Touch screen maintenance
If you clean the display screen, use a dry, soft cloth. If additional cleaning is necessary, use a small amount of neutral detergent with a soft cloth. Never spray the screen with water or detergent. ...