CD/DVD/USB memory care and cleaning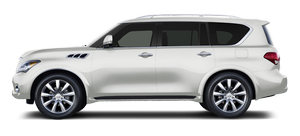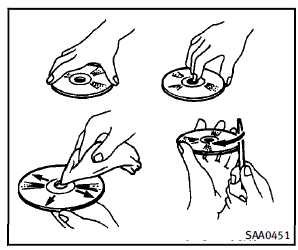 CD/DVD
► Handle a CD/DVD by its edges. Never touch the surface of the disc. Do not bend the disc.
► Always place the discs in the storage case when they are not being used.
► To clean a disc, wipe the surface from the center to the outer edge using a clean, soft cloth. Do not wipe the disc using a circular motion. Do not use a conventional record cleaner or alcohol intended for industrial use.
► A new disc may be rough on the inner and outer edges. Remove the rough edges by rubbing the inner and outer edges with the side of a pen or pencil as illustrated.
USB memory
►Never touch the terminal portion of the USB memory.
► Do not place heavy objects on the USB memory.
► Do not store the USB memory in highly humid locations.
► Do not expose the USB memory to direct sunlight.
► Do not spill any liquids on the USB memory. Refer to the USB memory Owner's Manual for the details.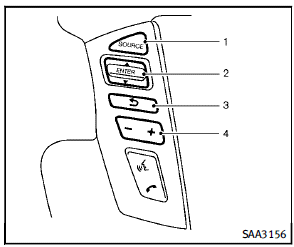 1. Audio source switch
2. Menu control switch
3. Back switch
4. Volume control switch
See also:
Gasoline specifications
INFINITI recommends using gasoline that meets the World-Wide Fuel Charter (WWFC) specifications where it is available. Many of the automobile manufacturers developed this specification to improve emis ...
Seat belt maintenance
► To clean the seat belt webbing, apply a mild soap solution or any solution recommended for cleaning upholstery or carpets. Then, wipe with a cloth and allow the seat belts to dry in th ...
Features
There are some substantial standard features on every FX, including the lowly FX35, but others that often come standard on the competition are packed in an expensive option group. Standard equipme ...