CD/DVD/USB memory care and cleaning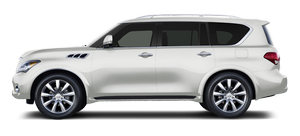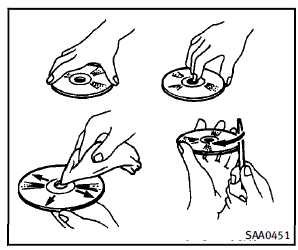 CD/DVD
► Handle a CD/DVD by its edges. Never touch the surface of the disc. Do not bend the disc.
► Always place the discs in the storage case when they are not being used.
► To clean a disc, wipe the surface from the center to the outer edge using a clean, soft cloth. Do not wipe the disc using a circular motion. Do not use a conventional record cleaner or alcohol intended for industrial use.
► A new disc may be rough on the inner and outer edges. Remove the rough edges by rubbing the inner and outer edges with the side of a pen or pencil as illustrated.
USB memory
►Never touch the terminal portion of the USB memory.
► Do not place heavy objects on the USB memory.
► Do not store the USB memory in highly humid locations.
► Do not expose the USB memory to direct sunlight.
► Do not spill any liquids on the USB memory. Refer to the USB memory Owner's Manual for the details.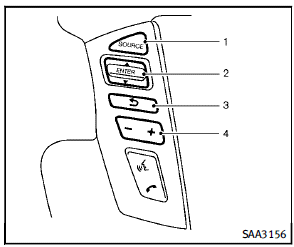 1. Audio source switch
2. Menu control switch
3. Back switch
4. Volume control switch
See also:
How to use the SETTING button
When the SETTING button is pressed, the Settings screen will appear on the display. You can select and/or adjust several functions, features and modes that are available for your vehicle. Use the IN ...
Tire chains
Use of tire chains may be prohibited according to location. Check the local laws before installing tire chains. When installing tire chains, make sure they are the proper size for the tires on your ve ...
Tire dressing
INFINITI does not recommend the use of tire dressings. Tire manufacturers apply a coating to the tires to help reduce discoloration of the rubber. If a tire dressing is applied to the tires, i ...