CD/DVD/USB memory care and cleaning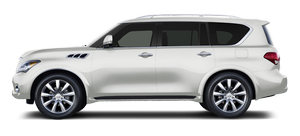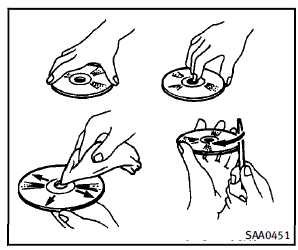 CD/DVD
► Handle a CD/DVD by its edges. Never touch the surface of the disc. Do not bend the disc.
► Always place the discs in the storage case when they are not being used.
► To clean a disc, wipe the surface from the center to the outer edge using a clean, soft cloth. Do not wipe the disc using a circular motion. Do not use a conventional record cleaner or alcohol intended for industrial use.
► A new disc may be rough on the inner and outer edges. Remove the rough edges by rubbing the inner and outer edges with the side of a pen or pencil as illustrated.
USB memory
►Never touch the terminal portion of the USB memory.
► Do not place heavy objects on the USB memory.
► Do not store the USB memory in highly humid locations.
► Do not expose the USB memory to direct sunlight.
► Do not spill any liquids on the USB memory. Refer to the USB memory Owner's Manual for the details.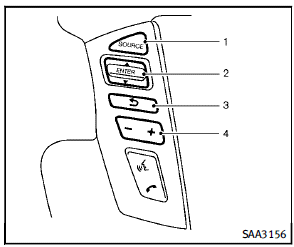 1. Audio source switch
2. Menu control switch
3. Back switch
4. Volume control switch
See also:
Indicators for operation
1. Engine start operation indicator (Automatic Transmission models) This indicator appears when the selector lever is in the P (Park) position. This indicator means that the engine will start by p ...
How to handle the sensor
The sensor for the Preview Function is common with Intelligent Cruise Control and is located below the front bumper. To keep the Preview Function operating properly, be sure to observe the following: ...
Event Data Recorders (EDR)
This vehicle is equipped with an Event Data Recorder (EDR). The main purpose of an EDR is to record, in certain crash or near crash-like situations, such as an air bag deployment or hitting a road obs ...