Making a call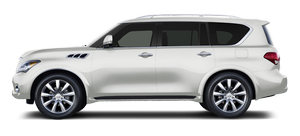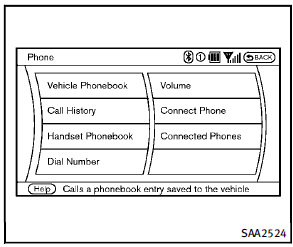 To make a call, follow this procedure. 1. Push the

button on the steering wheel. The "PHONE" screen will appear on the display. 2. Select the "Handset Phonebook" key on the "PHONE" menu. 3. Select the desired entry from the list. 4. Confirm the correct entry by selecting for the correct number from the list.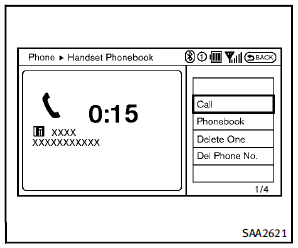 5. Select the "Call" key to start dialing the number. There are different methods to make a call. Select one of the following options instead of "Handset Phonebook" in step 2 above.
► Vehicle Phonebook Select an entry stored in the Vehicle's Phonebook.
► Call History Select an outgoing, incoming or missed call downloaded from your cell phone (depending on your phone's compatibility).
► Dial Number Input the phone number manually using the keypad displayed on the screen. (See "How to use touch screen" earlier in this section.)
See also:
Lane camera unit maintenance
The lane camera unit 1 for the LDW/LDP system is located above the inside mirror. To keep the proper operation of the LDW/ LDP systems and prevent a system malfunction, be sure to observe the follow ...
Overview
The Infiniti EX30d introduces a lower CO2 V6 diesel engine, first-in-class safety technology and a new chapter in the European ambitions of Japan's youngest luxury performance car-maker. What doesn't ...
Warning light and display
WARNING light and display When the Preview Function is not operating properly, a chime sounds and the system warning light (orange) will come on. Action to take: If the warning light comes on, p ...