Making a call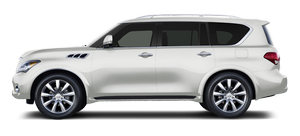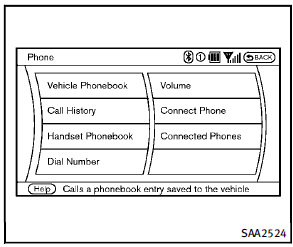 To make a call, follow this procedure. 1. Push the

button on the steering wheel. The "PHONE" screen will appear on the display. 2. Select the "Handset Phonebook" key on the "PHONE" menu. 3. Select the desired entry from the list. 4. Confirm the correct entry by selecting for the correct number from the list.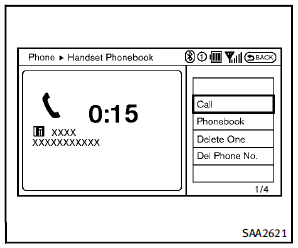 5. Select the "Call" key to start dialing the number. There are different methods to make a call. Select one of the following options instead of "Handset Phonebook" in step 2 above.
► Vehicle Phonebook Select an entry stored in the Vehicle's Phonebook.
► Call History Select an outgoing, incoming or missed call downloaded from your cell phone (depending on your phone's compatibility).
► Dial Number Input the phone number manually using the keypad displayed on the screen. (See "How to use touch screen" earlier in this section.)
See also:
Bluetooth Hands-Free Phone System withoutNavigation System (if so equipped)
WARNING ● Use a phone after stopping your vehicle in a safe location. If you have to use a phone while driving, exercise extreme caution at all times so full attention may be given to vehicle ...
Brake booster
Check the brake booster function as follows: 1. With the engine off, depress and release the foot brake pedal more than 20 times. When the foot brake pedal movement (distance of travel) rema ...
Spark plugs
WARNING Be sure the engine and the ignition switch are off and that the parking brake is engaged securely. CAUTION Be sure to use the correct socket to remove the spark plugs. An incorre ...