Off-road recovery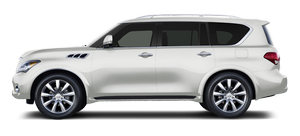 If the right side or left side wheels unintentionally leave the road surface, maintain control of the vehicle by following the procedure below. Please note that this procedure is only a general guide. The vehicle must be driven as appropriate based on the conditions of the vehicle, road and traffic. 1. Remain calm and do not overreact. 2. Do not apply the brakes. 3. Maintain a firm grip on the steering wheel with both hands and try to hold a straight course. 4. When appropriate, slowly release the accelerator pedal to gradually slow the vehicle. 5. If there is nothing in the way, steer the vehicle to follow the road while the vehicle speed is reduced. Do not attempt to drive the vehicle back onto the road surface until vehicle speed is reduced. 6. When it is safe to do so, gradually turn the steering wheel until both tires return to the road surface. When all tires are on the road surface, steer the vehicle to stay in the appropriate driving lane.
► If you decide that it is not safe to return the vehicle to the road surface based on vehicle, road or traffic conditions, gradually slow the vehicle to a stop in a safe place off the road.
See also:
Warning light and display
WARNING light and display Condition A: The chime sounds and the Intelligent Cruise Control system is canceled automatically in the conditions described below. Part of the system display will com ...
How to use INFINITI controller
Choose an item on the display by rotating or pushing the center dial 1 upward/ downward, and push the ENTER button 2 for operation. If you push the BACK button3 before the setup is complet ...
Zone variation change procedure
The difference between magnetic north and geographical north is known as variance. In some areas, this difference can sometimes be great enough to cause false compass readings. Follow these instructi ...