Push-button ignition switch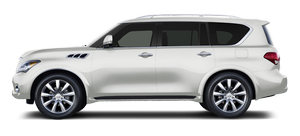 WARNING
Do not operate the push-button ignition switch while driving the vehicle except in an emergency. (The engine will stop when the ignition switch is pushed 3 consecutive times or the ignition switch is pushed and held for more than 2 seconds.) If the engine stops while the vehicle is being driven, this could lead to a crash and serious injury.
Before operating the push-button ignition switch, be sure to move the selector lever to the P (Park) position.
See also:
Going & Stopping
The M35 should be fine for most drivers. Its V-6 churns out fluid power with no peaky bursts or low-end sluggishness, and under hard acceleration its high-pitched whine should be music to any gear ...
Unique front and rear parts (INFINITI Performance Line, Aerodynamic Package models)
INFINITI Performance Line models The INFINITI Performance Line models have unique exhaust pipes. These parts are close to the ground and may be damaged if they contact objects such as parking block ...
Mechanical key
The Intelligent Key contains the mechanical key, which can be used in case of a discharged battery. To remove the mechanical key, release the lock knob on the back of the Intelligent Key. To i ...