Break-in schedule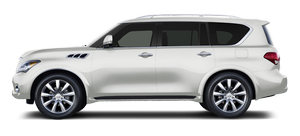 CAUTION
During the first 1,200 miles (2,000 km), follow these recommendations to obtain maximum engine performance and ensure the future reliability and economy of your new vehicle. Failure to follow these recommendations may result in shortened engine life and reduced engine performance.
► Avoid driving for long periods at constant speed, either fast or slow. Do not run the engine over 4,000 rpm.
► Do not accelerate at full throttle in any gear.
► Avoid quick starts.
► Avoid hard braking as much as possible.
► Do not tow a trailer for the first 500 miles (805 km).
See also:
Safety
When I first picked up the test car, it beeped at me several times while I was driving on the highway. It took me a minute to figure out that it was beeping every time I drifted into another lane. ...
Automatic transmission fluid
Contact an INFINITI retailer if replacement is required. CAUTION ► Use only Genuine NISSAN Matic S ATF. Do not mix with other fluids. ► Using automatic transmission fluid other ...
Terms
It is important to familiarize yourself with the following terms before loading your vehicle: ● Curb Weight (actual weight of your vehicle) - vehicle weight including: standard and optional ...