Break-in schedule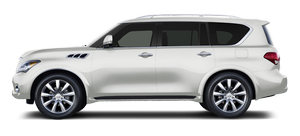 CAUTION
During the first 1,200 miles (2,000 km), follow these recommendations to obtain maximum engine performance and ensure the future reliability and economy of your new vehicle. Failure to follow these recommendations may result in shortened engine life and reduced engine performance.
► Avoid driving for long periods at constant speed, either fast or slow. Do not run the engine over 4,000 rpm.
► Do not accelerate at full throttle in any gear.
► Avoid quick starts.
► Avoid hard braking as much as possible.
► Do not tow a trailer for the first 500 miles (805 km).
See also:
Initialize entry/exit function
If the battery cable is disconnected, or if the fuse opens, the entry/exit function will not work though this function was set on before. In such a case, after connecting the battery or replacing with ...
Window washer fluid
Window washer fluid WARNING Antifreeze is poisonous and should be stored carefully in marked containers out of the reach of children. Fill the window washer fluid reservoir periodically. Add wind ...
DVD settings
Select the "Settings" key to adjust the following settings: ● Key (DVD-VIDEO) Displays the operation keys for the specific DVD menu. – Select the directional keys to move the cursor on the ...