Increasing fuel economy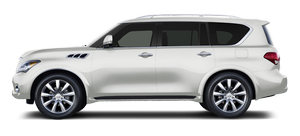 ► Accelerate slowly and smoothly. Maintain cruising speeds with a constant accelerator position.
► Drive at moderate speeds on the highway.
► Avoid unnecessary stopping and braking. Keep a safe distance behind other vehicles.
► Select a gear range suitable to road conditions.
► Avoid unnecessary prolonged engine idling.
► Keep your engine tuned up.
► Follow the recommended periodic maintenance schedule.
► Keep the tires inflated at the correct pressure. Improper tire pressure will increase wear and waste fuel.
► Make sure the front wheels are properly aligned. Improper alignment will cause premature tire wear and lower fuel economy.
► Climate control operation lowers fuel economy. Use the air conditioner only when necessary.
► When cruising at highway speeds, it is more economical to use the air conditioner and leave the windows closed to reduce drag.
See also:
Precautions on vehicle-to-vehicle distance control mode
The system is intended to enhance the operation of the vehicle when following a vehicle traveling in the same lane and direction. If the distance sensor A detects a slower moving vehicle a ...
Clearing the programmed information
Individual buttons cannot be cleared, however to clear all programming, push and hold the two outside buttons and release when the indicator light begins to flash (in approximately 20 seconds) ...
Break-in schedule
CAUTION During the first 1,200 miles (2,000 km), follow these recommendations to obtain maximum engine performance and ensure the future reliability and economy of your new vehicle. Fail ...