Increasing fuel economy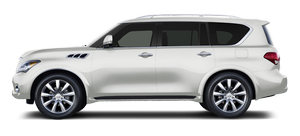 ► Accelerate slowly and smoothly. Maintain cruising speeds with a constant accelerator position.
► Drive at moderate speeds on the highway.
► Avoid unnecessary stopping and braking. Keep a safe distance behind other vehicles.
► Select a gear range suitable to road conditions.
► Avoid unnecessary prolonged engine idling.
► Keep your engine tuned up.
► Follow the recommended periodic maintenance schedule.
► Keep the tires inflated at the correct pressure. Improper tire pressure will increase wear and waste fuel.
► Make sure the front wheels are properly aligned. Improper alignment will cause premature tire wear and lower fuel economy.
► Climate control operation lowers fuel economy. Use the air conditioner only when necessary.
► When cruising at highway speeds, it is more economical to use the air conditioner and leave the windows closed to reduce drag.
See also:
Air cleaner
To remove the filter, release the lock pins 1 and pull the unit upward 2 . The filter element should not be cleaned and reused. Replace it according to the maintenance intervals. See "INFINI ...
Jump starting
If jump starting is necessary, see "Jump starting" in the "In case of emergency" section of this manual. If the engine does not start by jump starting, the battery may have to be replaced. Contact ...
Care of wheels
See "Cleaning exterior" for details about care of the wheels. ...