Special winter equipment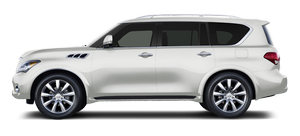 It is recommended that the following items be carried in the vehicle during winter:
► A scraper and stiff-bristled brush to remove ice and snow from the windows and wiper blades.
► A sturdy, flat board to be placed under the jack to give it firm support.
► A shovel to dig the vehicle out of snowdrifts.
► Extra window washer fluid to refill the reservoir tank.
See also:
Emergency engine shut off
To shut off the engine in an emergency situation while driving, perform the following procedure: . Rapidly push the push-button ignition switch 3 consecutive times in less than 1.5 seconds, or . Push ...
Tire chains
Use of tire chains may be prohibited according to location. Check the local laws before installing tire chains. When installing tire chains, make sure they are the proper size for the tires on your ve ...
Infiniti G in the Market
Bolstered by the addition of the G25, the G has seen a sales surge uncommon this late in a car's life cycle: It's edged out the C-Class and come within striking distance of the 3 Series — the segm ...