Driving on snow or ice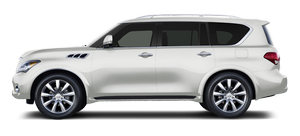 WARNING

► Wet ice (328F, 08C and freezing rain), very cold snow or ice can be slick and very hard to drive on. The vehicle will have much less traction or "grip" under these conditions. Try to avoid driving on wet ice until the road is salted or sanded.
► Whatever the condition, drive with caution. Accelerate and slow down with care. If accelerating or downshifting too fast, the drive wheels will lose even more traction.
► Allow more stopping distance under these conditions. Braking should be started sooner than on dry pavement.
► Allow greater following distances on slippery roads.
► Watch for slippery spots (glare ice). These may appear on an otherwise clear road in shaded areas. If a patch of ice is seen ahead, brake before reaching it. Try not to brake while on the ice, and avoid any sudden steering maneuvers.
► Do not use the cruise control on slippery roads.
► Snow can trap dangerous exhaust gases under your vehicle. Keep snow clear of the exhaust pipe and from around your vehicle.
See also:
FX in the Market
Off-road SUVs proliferated before their numbers thinned, leaving healthy demand for stalwarts like Jeep. Conversely, SUVs designed primarily for on-road sport, like the FX, didn't become a signifi ...
Rear window wiper and washer switch
WARNING In freezing temperatures the washer solution may freeze on the rear window glass and obscure your vision. Warm the rear window with the defroster before you wash the rear window. C ...
Exterior
Many people have openly expressed disgust with the QX's looks. I wouldn't call it 100 percent ugly, but 60 percent ugly sounds about right. Its proportions don't help. To my eye, its beluga-whale ...