Underbody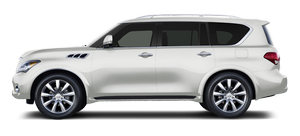 In areas where road salt is used in winter, the underbody must be cleaned regularly. This will prevent dirt and salt from building up and causing the acceleration of corrosion on the underbody and suspension. Before the winter period and again in the spring, the underseal must be checked and, if necessary, re-treated.
See also:
Engine oil and oil filter recommendation
Selecting the correct oil It is essential to choose the correct grade, quality, and viscosity engine oil to ensure satisfactory engine life and performance, see "Capacities and recommended fuel ...
Summer tires
INFINITI specifies summer tires on some models to provide superior performance on dry roads. Summer tire performance is substantially reduced in snow and ice. Summer tires do not have the tire tracti ...
Going & Stopping
The M35 should be fine for most drivers, as Infiniti tuned its V-6 this year for more high-revving horsepower — an impressive 303 hp, to be exact — but less torque, which is the low-end grunt you ...