Tire dressing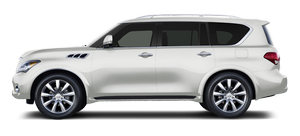 INFINITI does not recommend the use of tire dressings. Tire manufacturers apply a coating to the tires to help reduce discoloration of the rubber. If a tire dressing is applied to the tires, it may react with the coating and form a compound. This compound may come off the tire while driving and stain the vehicle paint. If you choose to use a tire dressing, take the following precautions:
► Use a water-based tire dressing. The coating on the tire dissolves more easily with an oil-based tire dressing.
► Apply a light coat of tire dressing to help prevent it from entering the tire tread/grooves (where it would be difficult to remove).
► Wipe off excess tire dressing using a dry towel. Make sure the tire dressing is completely removed from the tire tread/grooves.
► Allow the tire dressing to dry as recommended by tire dressing manufacturer.
See also:
Air cleaner
Air cleaner Remove the retainers 1 as illustrated and pull out the filter element 2 . The filter element should not be cleaned and reused. Replace it according to the maintenance intervals. See "I ...
Instrument panel
1. Side ventilator (P.4-32) 2. Meters and gauges (P.2-6) 3. Hazard warning flasher switch (P.2-43) 4. Center ventilator (P.4-32) 5. Center multi-function control panel (P.4-4) — Vehicle ...
Parking brake break-in
Break in the parking brake shoes whenever the stopping effect of the parking brake is weakened or whenever the parking brake shoes and/or drums/rotors are replaced, in order to assure the best braking ...