Air fresheners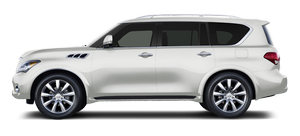 Most air fresheners use a solvent that could affect the vehicle interior. If you use an air freshener, take the following precautions:
► Hanging-type air fresheners can cause permanent discoloration when they contact vehicle interior surfaces. Place the air freshener in a location that allows it to hang free and not contact an interior surface.
► Liquid-type air fresheners typically clip on the vents. These products can cause immediate damage and discoloration when spilled on interior surfaces. Carefully read and follow the manufacturer's instructions before using air fresheners.
See also:
Xenon headlights
WARNING HIGH VOLTAGE ● When xenon headlights are on, they produce a high voltage. To prevent an electric shock, never attempt to modify or disassemble. Always have your xenon headlights re ...
Styling & Quality
I won't waste much virtual ink describing the M's styling revisions; they're better shown in the thumbnails at right. Suffice it to say the M looks much like it did before, though certain elements ...