Air fresheners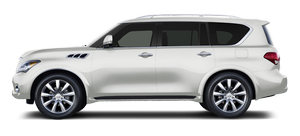 Most air fresheners use a solvent that could affect the vehicle interior. If you use an air freshener, take the following precautions:
► Hanging-type air fresheners can cause permanent discoloration when they contact vehicle interior surfaces. Place the air freshener in a location that allows it to hang free and not contact an interior surface.
► Liquid-type air fresheners typically clip on the vents. These products can cause immediate damage and discoloration when spilled on interior surfaces. Carefully read and follow the manufacturer's instructions before using air fresheners.
See also:
Draining of coolant water
If the vehicle is to be left outside without antifreeze, drain the cooling system, including the engine block. Refill before operating the vehicle. For details, see "Engine cooling system". ...
Warning systems switch (if so equipped)
The warning systems switch is used to turn on and off the warning systems (Forward Collision Warning (FCW), Lane Departure Warning (LDW) and Blind SpotWarning (BSW) systems) that are activated using ...
DISC·AUX but
Park the vehicle in a safe location for the front seat occupants to operate the DVD player while watching the images. Insert a DVD into the CD/DVD slot with the labeled side up. The DVD will be guide ...