Environmental factors influence the rate of corrosion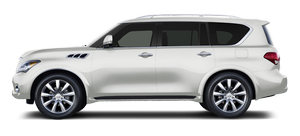 Moisture
Accumulation of sand, dirt and water on the vehicle body underside can accelerate corrosion. Wet floor coverings will not dry completely inside the vehicle, and should be removed for drying to avoid floor panel corrosion.
Relative humidity
Corrosion will be accelerated in areas of high relative humidity, especially those areas where the temperatures stay above freezing where atmospheric pollution exists, or where road salt is used.
Temperature
A temperature increase will accelerate the rate of corrosion to those parts which are not well ventilated.
Air pollution
Industrial pollution, the presence of salt in the air in coastal areas, or heavy road salt use will accelerate the corrosion process. Road salt will also accelerate the disintegration of paint surfaces.
See also:
How to adjust the screen
To adjust the Display ON/OFF, Brightness, Tint, Color, Contrast and Black Level of the RearView Monitor, press the SETTING button with the RearView Monitor on and select the "Display" key. Select one ...
2013 Infiniti JX35 Review
Don't you ever wish car companies would get with the program and hire a real expert? Not some stuffy pinstriped suit but rather a parent, like yourself, who has the same automotive needs, wants an ...
Engine compartment
Engine compartment CAUTION Never use a fuse of a higher or lower amperage rating than that specified on the fuse box cover. This could damage the electrical system or cause a fire. If any electri ...