Brake fluid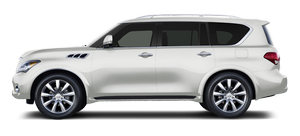 For further brake fluid specification information, see "Capacities and recommended fuel/lubricants" in the "9. Technical and consumer information" section of this manual.

WARNING

► Use only new fluid from a sealed container. Old, inferior or contaminated fluid may damage the brake system. The use of improper fluids can damage the brake system and affect the vehicle's stopping ability.
► Be sure to clean the filler cap before removing.
► Brake fluid is poisonous and should be stored carefully in marked containers out of the reach of children.

CAUTION
► Do not add brake fluid with the ignition switch in the "ON" position or the engine running. Doing so could make the brake fluid overfill when the ignition switch is turned off.
► Do not spill the fluid on painted surfaces. This will damage the paint. If fluid is spilled, wash the surface with water.
Brake fluid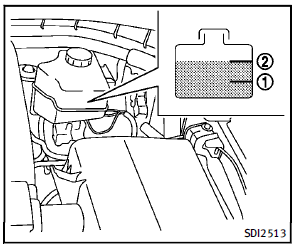 Check the fluid level in the reservoir. If the fluid is below the MIN line1 or the brake warning light comes on, add Genuine NISSAN Super Heavy Duty Brake Fluid or equivalent DOT 3 fluid up to the MAX line 2 . To add brake fluid: 1. Be sure the ignition switch is in the OFF or LOCK position. 2. Depress and release the foot brake pedal more than 40 times. 3. Open the reservoir filler cap and add brake fluid up to the MAX line2 . (See "Capacities and recommended fuel/ lubricants" in the "9. Technical and consumer information" section for the recommended types of brake fluid.)
NOTE:
When the ignition switch is placed in the "ON" position after adding brake fluid up to the MAX line 2 in the reservoir, the brake fluid decreases below the MAX line 2 . This is normal. If fluid must be added frequently, the system should be checked by an INFINITI retailer.
See also:
Clearing the programmed information
Individual buttons cannot be cleared, however to clear all programming, push and hold the two outside buttons and release when the indicator light begins to flash (in approximately 20 seconds). ...
Wheels
Wash the wheels when washing the vehicle to maintain their appearance. ► Clean the inner side of the wheels when the wheel is changed or the underside of the vehicle is washed. ► ...
Opening windows
The Intelligent Key allows you to simultaneously open windows equipped with automatic operation. ● To open the windows, press the button on the Intelligent Key for longer than 3 seconds af ...