Engine oil and oil filter recommendation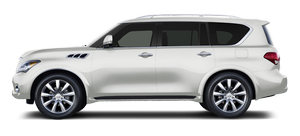 Selecting the correct oil
It is essential to choose the correct grade, quality, and viscosity engine oil to ensure satisfactory engine life and performance, see "Capacities and recommended fuel/ lubricants" earlier in this section. INFINITI recommends the use of an energy conserving oil in order to improve fuel economy. Select only engine oils that meet the American Petroleum Institute (API) certification or International Lubricant Standardization and Approval Committee (ILSAC) certification and SAE viscosity standard. These oils have the API certification mark on the front of the container. Oils which do not have the specified quality label should not be used as they could cause engine damage.
Oil additives
INFINITI does not recommend the use of oil additives. The use of an oil additive is not necessary when the proper oil type is used and maintenance intervals are followed. Oil which may contain foreign matter or has been previously used should not be used.
Oil viscosity
The engine oil viscosity or thickness changes with temperature. Because of this, it is important that the engine oil viscosity be selected based on the temperatures at which the vehicle will be operated before the next oil change. Choosing an oil viscosity other than that recommended could cause serious engine damage.
Selecting the correct oil filter
Your new vehicle is equipped with a highquality genuine NISSAN oil filter. When replacing, use the genuine oil filter or its equivalent for the reason described in change intervals.
Change intervals
The oil and oil filter change intervals for your engine are based on the use of the specified quality oils and filters. Oil and filter other than the specified quality, or oil and filter change intervals longer than recommended could reduce engine life. Damage to engines caused by improper maintenance or use of incorrect oil and filter quality and/or viscosity is not covered by the new INFINITI vehicle limited warranties. Your engine was filled with a high quality engine oil when it was built. You do not have to change the oil before the first recommended change interval. Oil and filter change intervals depend upon how you use your vehicle. Operation under the following conditions may require more frequent oil and filter changes.
► repeated short distance driving at cold outside temperatures,
► driving in dusty conditions,
► extensive idling,
► towing a trailer,
► stop and go "rush hour" traffic,
Refer to the "INFINITI Service and Maintenance Guide" for the maintenance schedule.
See also:
On-pavement and off-road driving precautions
Utility vehicles have a significantly higher rollover rate than other types of vehicles. They have higher ground clearance than passenger cars to make them capable of performing in a variety of ...
Going & Stopping
The M35 should be fine for most drivers, as Infiniti tuned its V-6 this year for more high-revving horsepower — an impressive 303 hp, to be exact — but less torque, which is the low-end grunt you ...
Compressed Video Files (models withNavigation System)
Explanation of terms: ● DivX – DivX refers to the DivX codec owned by Div, Inc. used for a lossy compression of video based on MPEG-4. ● AVI – AVI stands for Audio Video Interleave. ...