When traveling or registering your vehicle inanother country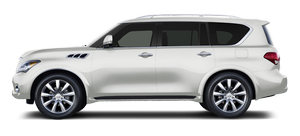 If you plan to travel in another country, you should first find out if the fuel available is suitable for your vehicle's engine. Using fuel with too low an octane rating may cause engine damage. All gasoline vehicles must be operated with unleaded gasoline. Therefore, avoid taking your vehicle to areas where appropriate fuel is not available. When transferring the registration of your vehicle to another country, state, province or district, it may be necessary to modify the vehicle to meet local laws and regulations. The laws and regulations for motor vehicle emission control and safety standards vary according to the country, state, province or district; therefore, vehicle specifications may differ. When any vehicle is to be taken into another country, state, province or district and registered, its modifications, transportation, and registration are the responsibility of the user. INFINITI is not responsible for any inconvenience that may result.
See also:
Drive belts
1. Power steering fluid pump 2. Water pump 3. Alternator 4. Crankshaft pulley 5. Air conditioner compressor WARNING Be sure the ignition switch is in the OFF or LOCK position before se ...
Reprogramming a single HomeLink® button
To reprogram a HomeLink® Universal Transceiver button, complete the following. 1. Push and hold the desired HomeLink® button. Do not release the button until step 4 has been completed. 2. When the i ...
Programming HomeLink
If you have any questions or are having difficulty programming your HomeLink buttons, refer to the HomeLink web site at: www.homelink.com or call 1-800-355-3515. 1. To begin, press and hold the t ...