When traveling or registering your vehicle inanother country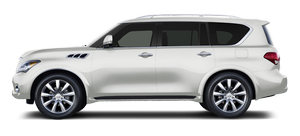 If you plan to travel in another country, you should first find out if the fuel available is suitable for your vehicle's engine. Using fuel with too low an octane rating may cause engine damage. All gasoline vehicles must be operated with unleaded gasoline. Therefore, avoid taking your vehicle to areas where appropriate fuel is not available. When transferring the registration of your vehicle to another country, state, province or district, it may be necessary to modify the vehicle to meet local laws and regulations. The laws and regulations for motor vehicle emission control and safety standards vary according to the country, state, province or district; therefore, vehicle specifications may differ. When any vehicle is to be taken into another country, state, province or district and registered, its modifications, transportation, and registration are the responsibility of the user. INFINITI is not responsible for any inconvenience that may result.
See also:
Draining of coolant water
If the vehicle is to be left outside without antifreeze, drain the cooling system, including the engine block. Refill before operating the vehicle. For details, see "Changing engine coolant" in the ...
Automatic transmission
All-Wheel Drive (AWD) models: Do not tow an AWD vehicle with any of the wheels on the ground. Two-Wheel Drive (2WD) models: To tow a vehicle equipped with an automatic transmission, an appropriate ...
Driving the vehicle
Continuously Variable Transmission (CVT) The Continuously Variable Transmission (CVT) in your vehicle is electronically controlled to produce maximum power and smooth operation. The recommended op ...