When traveling or registering your vehicle inanother country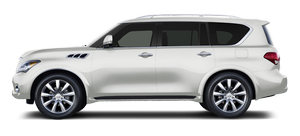 If you plan to travel in another country, you should first find out if the fuel available is suitable for your vehicle's engine. Using fuel with too low an octane rating may cause engine damage. All gasoline vehicles must be operated with unleaded gasoline. Therefore, avoid taking your vehicle to areas where appropriate fuel is not available. When transferring the registration of your vehicle to another country, state, province or district, it may be necessary to modify the vehicle to meet local laws and regulations. The laws and regulations for motor vehicle emission control and safety standards vary according to the country, state, province or district; therefore, vehicle specifications may differ. When any vehicle is to be taken into another country, state, province or district and registered, its modifications, transportation, and registration are the responsibility of the user. INFINITI is not responsible for any inconvenience that may result.
See also:
Cargo net retainers
Cargo net retainers The cargo net helps keep packages in the cargo area from moving around while your vehicle is driven. To install the cargo net, attach the hooks to the retainers A . ...
INFINITI Voice Recognition Alternate Command Mode
The Alternate Command Mode enables control of the Audio, Climate Control and Display systems as well as additional commands for the Vehicle Information, Phone and Navigation systems. With this sett ...
Family-friendly features
The JX is all about having your cake and eating it, too. Want family-friendly features in your car but don't want to sacrifice style or drivability? The JX mostly accomplishes both. The interior o ...