Terms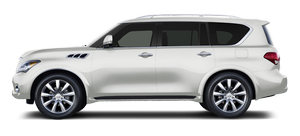 It is important to familiarize yourself with the following terms before loading your vehicle:
► Curb Weight (actual weight of your vehicle) - vehicle weight including: standard and optional equipment, fluids, emergency tools, and spare tire assembly. This weight does not include passengers and cargo.
► GVW (Gross Vehicle Weight) - curb weight plus the combined weight of passengers and cargo.
► GVWR (Gross Vehicle Weight Rating) - maximum total combined weight of the unloaded vehicle, passengers, luggage, hitch, trailer tongue load and any other optional equipment. This information is located on the F.M.V.S.S./ C.M.V.S.S. label.
► GAWR (Gross Axle Weight Rating) - maximum weight (load) limit specified for the front or rear axle. This information is located on the F.M.V.S.S./C.M.V.S.S. label.
► GCWR (Gross Combined Weight Rating) - The maximum total weight rating of the vehicle, passengers, cargo, and trailer.
► Vehicle Capacity Weight, Load limit, Total load capacity - maximum total weight limit specified of the load (passengers and cargo) for the vehicle. This is the maximum combined weight of occupants and cargo that can be loaded into the vehicle. If the vehicle is used to tow a trailer, the trailer tongue weight must be included as part of the cargo load. This information is located on the Tire and Loading Information label.
► Cargo capacity - permissible weight of cargo, the weight of total occupants weight subtracted from the load limit.
See also:
On-pavement and off-road driving precautions
Utility vehicles have a significantly higher rollover rate than other types of vehicles. They have higher ground clearance than passenger cars to make them capable of performing in a variety of ...
Handset phonebook
Many phones will support an automatic download of the cellular phone's phonebook. Since this method allows for up to 1000 numbers to be stored and entries are automatically assigned voice tags by the ...
Driving on snow or ice
WARNING ● Wet ice (32°F, 0°C and freezing rain), very cold snow or ice can be slick and very hard to drive on. The vehicle will have much less traction or "grip" under these conditions. Try t ...