Terms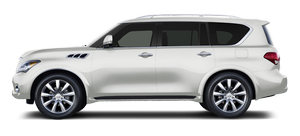 It is important to familiarize yourself with the following terms before loading your vehicle:
► Curb Weight (actual weight of your vehicle) - vehicle weight including: standard and optional equipment, fluids, emergency tools, and spare tire assembly. This weight does not include passengers and cargo.
► GVW (Gross Vehicle Weight) - curb weight plus the combined weight of passengers and cargo.
► GVWR (Gross Vehicle Weight Rating) - maximum total combined weight of the unloaded vehicle, passengers, luggage, hitch, trailer tongue load and any other optional equipment. This information is located on the F.M.V.S.S./ C.M.V.S.S. label.
► GAWR (Gross Axle Weight Rating) - maximum weight (load) limit specified for the front or rear axle. This information is located on the F.M.V.S.S./C.M.V.S.S. label.
► GCWR (Gross Combined Weight Rating) - The maximum total weight rating of the vehicle, passengers, cargo, and trailer.
► Vehicle Capacity Weight, Load limit, Total load capacity - maximum total weight limit specified of the load (passengers and cargo) for the vehicle. This is the maximum combined weight of occupants and cargo that can be loaded into the vehicle. If the vehicle is used to tow a trailer, the trailer tongue weight must be included as part of the cargo load. This information is located on the Tire and Loading Information label.
► Cargo capacity - permissible weight of cargo, the weight of total occupants weight subtracted from the load limit.
See also:
Overview
With the Infiniti M a new style of performance saloon - brimming with passion, craftsmanship and driver appeal - comes to Europe in 2010 as the world's newest luxury automotive brand Infiniti face ...
How to use the touch screen
CAUTION ● The glass display screen may break if it is hit with a hard or sharp object. If the glass screen breaks, do not touch it. Doing so could result in an injury. ● To clean ...
Avoiding collision and rollover
WARNING Failure to operate this vehicle in a safe and prudent manner may result in loss of control or an accident. Be alert and drive defensively at all times. Obey all traffic regulations. Avoid ...