Exterior (Coupe/INFINITI Performance Line, Aerodynamic Package models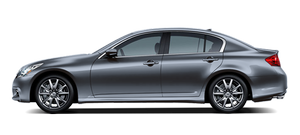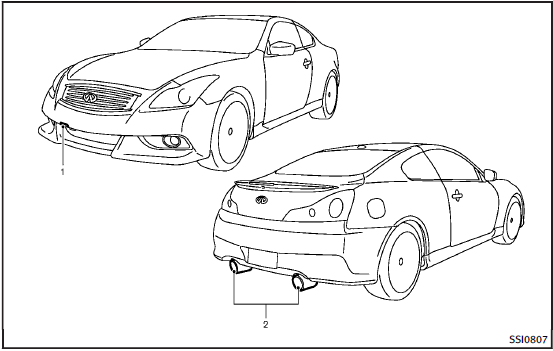 Exterior (Coupe/INFINITI Performance Line, Aerodynamic Package models
For INFINITI Coupe/INFINITI Performance Line, Aerodynamic Package models, the vehicle parts listed below require special care or caution for treating. Refer to additional information in each section.
1. Recovery hook
2. Exhaust pipes (for INFINITI Performance Line model)
See also:
Draining of coolant water
If the vehicle is to be left outside without antifreeze, drain the cooling system, including the engine block. Refill before operating the vehicle. For details, see "Engine cooling system". ...
Read first — then drive safely
Before driving your vehicle, read your Owner's Manual carefully. This will ensure familiarity with controls and maintenance requirements, assisting you in the safe operation of your vehicle. ...
To protect your vehicle from corrosion
► Wash and wax your vehicle often to keep the vehicle clean. ► Always check for minor damage to the paint and repair it as soon as possible. ► Keep drain holes at the bottom ...