Small children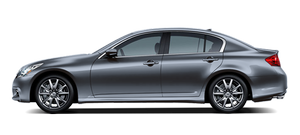 Children that are over 1 year old and weigh at least 20 lbs (9 kg) should remain in a rear-facing child restraint as long as possible up to the height or weight limit of the child restraint. Forward-facing child restraints are available for children who outgrow rear facing child restraints and are at least 1 year old. Refer to the manufacturer's instructions for minimum and maxi m u m w e i g h t a n d h e i g h t recommendations. INFINITI recommends that small children be placed in child restraints that comply with Federal Motor Vehicle Safety Standards or Canadian Motor Vehicle Safety Standards. You should choose a child restraint that fits your vehicle and always follow the manufacturer's instructions for installation and use.
See also:
Cleaning
If your windshield is not clear after using the windshield washer or if a wiper blade chatters when running, wax or other material may be on the blade or windshield. Clean the outside of the w ...
Exterior front
1. Front camera (if so equipped) (P. 4-36) 2. Engine hood (P. 3-22) 3. Windshield wiper and washer switch, wiper blades (P. 2-26, 8-18) 4. Windshield-washer fluid (P. 8-18) 5. Power wind ...
Vacuum assisted brakes
The brake booster aids braking by using engine vacuum. If the engine stops, you can stop the vehicle by depressing the brake pedal. However, greater foot pressure on the brake pedal will be required t ...