Small children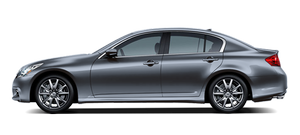 Children that are over 1 year old and weigh at least 20 lbs (9 kg) should remain in a rear-facing child restraint as long as possible up to the height or weight limit of the child restraint. Forward-facing child restraints are available for children who outgrow rear facing child restraints and are at least 1 year old. Refer to the manufacturer's instructions for minimum and maxi m u m w e i g h t a n d h e i g h t recommendations. INFINITI recommends that small children be placed in child restraints that comply with Federal Motor Vehicle Safety Standards or Canadian Motor Vehicle Safety Standards. You should choose a child restraint that fits your vehicle and always follow the manufacturer's instructions for installation and use.
See also:
Gasoline containing oxygenates
Some fuel suppliers sell gasoline containing oxygenates such as ethanol, MTBE and methanol with or without advertising their presence. INFINITI does not recommend the use of fuels of which the oxygena ...
Chassis and driving dynamics
Infiniti G37 Coupé uses the second-generation version of Infiniti's FM platform. The 'front midship' engine location sees the compact V6 mounted in the front of the car, but as low and as f ...
Audio operation precautions
Radio Push the ignition switch to the ACC or ON position and push the radio band select button to turn on the radio. If you listen to the radio with the engine not running, the ignition switc ...