Small children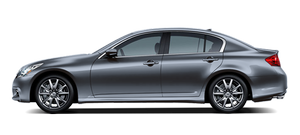 Children that are over 1 year old and weigh at least 20 lbs (9 kg) should remain in a rear-facing child restraint as long as possible up to the height or weight limit of the child restraint. Forward-facing child restraints are available for children who outgrow rear facing child restraints and are at least 1 year old. Refer to the manufacturer's instructions for minimum and maxi m u m w e i g h t a n d h e i g h t recommendations. INFINITI recommends that small children be placed in child restraints that comply with Federal Motor Vehicle Safety Standards or Canadian Motor Vehicle Safety Standards. You should choose a child restraint that fits your vehicle and always follow the manufacturer's instructions for installation and use.
See also:
Three-way catalyst
The three-way catalyst is an emission control device installed in the exhaust system. Exhaust gases in the three-way catalyst are burned at high temperatures to help reduce pollutants. WARNING ...
Speedometer and odometer
Speedometer The speedometer indicates vehicle speed. Odometer/Twin trip odometer The odometer 1 and the twin trip odometer 2 are displayed below the Vehicle Information Display when the ignition ...
Emission control information label
The emission control information label is attached to the underside of the hood as shown. ...