Valet hand-off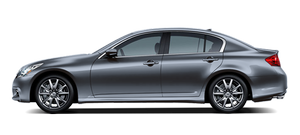 When you have to leave a key with a valet, give them the Intelligent Key itself and keep the mechanical key with you to protect your belongings.
To prevent the glove box and the trunk from being opened during valet hand-off, follow the procedures below.
1. Push the trunk release power cancel switch to the CANCEL side.
2. Remove the mechanical key from the Intelligent Key.
3. Lock the glove box and the trunk passthrough (for Sedan) with the mechanical key.
4. Hand the Intelligent Key to the valet, keeping the mechanical key in your pocket or bag for insertion into the Intelligent Key when you retrieve your vehicle.
See "Trunk lid", "Storage" and "Seats".
See also:
Instrument panel
1. Side ventilator2. Meters and gauges3. Center ventilator4. Audio system5. Clock6. Center multi-function control panel— Navigation system* ( i f so equipped)— Vehicle information and setting button ...
Parking brake break-in
Break in the parking brake shoes whenever the stopping effect of the parking brake is weakened or whenever the parking brake shoes and/or drums/rotors are replaced, in order to assure the best ...
Releasing inside the trunk
To open the trunk lid from the inside, pull the release handle 1 until the lock releases and push up on the trunk lid. The release lever is made of a material that glows in the dark after a brief exp ...