Touch screen operation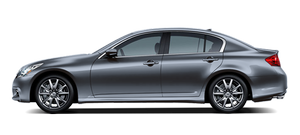 With this system, the same operations as those for the INFINITI controller are possible using the touch screen operation.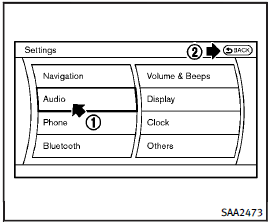 Selecting the item:
Touch an item to select it. To select the "Audio" settings, touch the "Audio" area 1 on the screen.
Touch the "BACK" 2 key to return to the previous screen.
Adjusting an item:
Touch the + 1 or − 2 key to adjust the settings.
Touch the

3 or

4 key to move to the previous or next item.
Touch the

5 or

6 key to move to the previous or next page.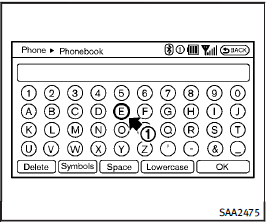 Inputting characters:
Touch the letter or number 1 .
There are some options available when inputting characters.
• Uppercase:
Shows uppercase characters.
• Lowercase:
Shows lowercase characters.
• Symbols:
Shows symbols such as the question mark (?).
• Space:
Inserts a space.
• Delete:
Deletes the last character that has been input with one touch. Push and hold to delete all of the characters.
• OK:
Completes character inputs.
See also:
Family-friendly features
Other than offering seating for five, the EX doesn't go above and beyond in terms of family considerations. But because I loved so many other things about the EX, I was willing to overlook a few s ...
Clearing the programmed information
Individual buttons cannot be cleared. However, to clear all programming, press and hold the two outside buttons and release when the indicator light begins to flash (approximately 20 seconds). ...
2011 Infiniti EX35 Review
As soon as I took off in the 2011 Infiniti EX35, I immediately felt like I was driving with my grandmother. I mean that in a good way. With her desire to keep me and my passengers safe, she lets m ...