Touch screen operation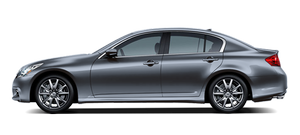 With this system, the same operations as those for the INFINITI controller are possible using the touch screen operation.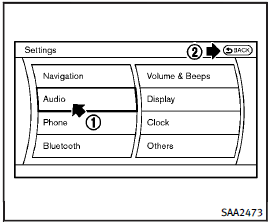 Selecting the item:
Touch an item to select it. To select the "Audio" settings, touch the "Audio" area 1 on the screen.
Touch the "BACK" 2 key to return to the previous screen.
Adjusting an item:
Touch the + 1 or − 2 key to adjust the settings.
Touch the

3 or

4 key to move to the previous or next item.
Touch the

5 or

6 key to move to the previous or next page.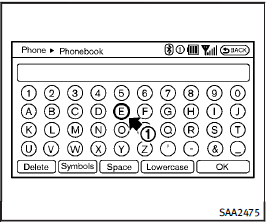 Inputting characters:
Touch the letter or number 1 .
There are some options available when inputting characters.
• Uppercase:
Shows uppercase characters.
• Lowercase:
Shows lowercase characters.
• Symbols:
Shows symbols such as the question mark (?).
• Space:
Inserts a space.
• Delete:
Deletes the last character that has been input with one touch. Push and hold to delete all of the characters.
• OK:
Completes character inputs.
See also:
Personal lights
To turn on the personal lights, press and release the switch 1 . To turn the personal lights off, press and release the switch 1 . ...
INFINITI Advanced Air Bag System (front seats)
WARNING To ensure proper operation of the passenger's advanced air bag system, please observe the following items. ► Do not allow a passenger in the rear seat to push or pull on the s ...
FCW system operation
Warning systems switch The FCW system will function at speeds of approximately 10 MPH (15 km/h) and above, when the system turns on. The FCW system has an automatic setting mode and a manual sett ...