Touch screen operation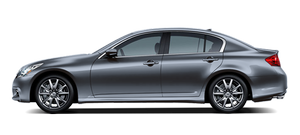 With this system, the same operations as those for the INFINITI controller are possible using the touch screen operation.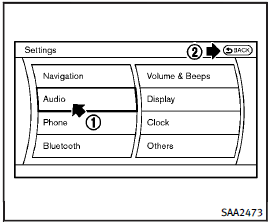 Selecting the item:
Touch an item to select it. To select the "Audio" settings, touch the "Audio" area 1 on the screen.
Touch the "BACK" 2 key to return to the previous screen.
Adjusting an item:
Touch the + 1 or − 2 key to adjust the settings.
Touch the

3 or

4 key to move to the previous or next item.
Touch the

5 or

6 key to move to the previous or next page.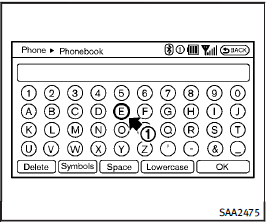 Inputting characters:
Touch the letter or number 1 .
There are some options available when inputting characters.
• Uppercase:
Shows uppercase characters.
• Lowercase:
Shows lowercase characters.
• Symbols:
Shows symbols such as the question mark (?).
• Space:
Inserts a space.
• Delete:
Deletes the last character that has been input with one touch. Push and hold to delete all of the characters.
• OK:
Completes character inputs.
See also:
Washing
Wash dirt off the vehicle with a wet sponge and plenty of water. Clean the vehicle thoroughly using a mild soap, a special vehicle soap or general purpose dishwashing liquid mixed with clean, ...
Meter/ring illumination and needle sweep
The ring illumination surrounding meters and gauges illuminates when the driver's door is closed after getting into the vehicle with the Intelligent Key carried in. When the engine is started, ...
2012 Infiniti IPL G Coupe review
The 2012 IPL G Coupe represents many things to Infiniti. For starters, the Infiniti Performance Line (IPL) is the automaker's first dabble into the kind of performance premium sub-branding that ma ...