Bluetooth® streaming audio (models with navigation system)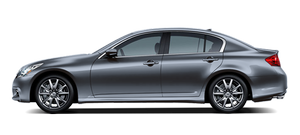 Your INFINITI is equipped with Bluetooth® Streaming Audio. If you have a compatible Bluetooth® device with streaming audio (A2DP profile), you can set up the wireless connection between your Bluetooth® device and the in-vehicle audio system. This connection allows you to listen to the audio from the Bluetooth® device using your vehicle speakers. It also may allow basic control of the device for playing and skipping audio files using the AVRCP Bluetooth® profile. All Bluetooth® Devices do not have the same level of controls for AVRCP. Please consult the manual for your Bluetooth® Device for more details.
Once your Bluetooth® device is connected to the in-vehicle audio system, it will automatically reconnect whenever the device is present in the vehicle and you select Bluetooth® Audio from your audio system.
You do not need to manually reconnect for each usage.
Wireless LAN (Wi-Fi) and the Bluetooth® functions share the same frequency band (2.4 GHz). Using the Bluetooth® and the wireless LAN functions at the same time may slow down or disconnect the communication and cause undesired noise. It is recommended that you turn off the wireless LAN (Wi-Fi) when using the Bluetooth® functions.
See also:
Glove box
Glove box WARNING Keep glove box lid closed while driving to help prevent injury in an accident or a sudden stop. To open the glove box, pull the handle 1 . To close, push the lid in until the l ...
Tow mode switch
TOW MODE should be used when pulling a heavy trailer or hauling a heavy load. Driving the vehicle in TOW MODE with no trailer/load or light trailer/light load will not cause any damage. Howe ...
Fuel gauge
The gauge indicates the approximate fuel level in the tank. The gauge may move slightly during braking, turning, acceleration, or going up or down hills. The gauge needle returns to 0 (Emp ...