Bluetooth® streaming audio (models with navigation system)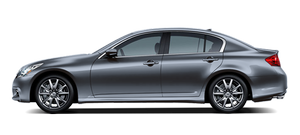 Your INFINITI is equipped with Bluetooth® Streaming Audio. If you have a compatible Bluetooth® device with streaming audio (A2DP profile), you can set up the wireless connection between your Bluetooth® device and the in-vehicle audio system. This connection allows you to listen to the audio from the Bluetooth® device using your vehicle speakers. It also may allow basic control of the device for playing and skipping audio files using the AVRCP Bluetooth® profile. All Bluetooth® Devices do not have the same level of controls for AVRCP. Please consult the manual for your Bluetooth® Device for more details.
Once your Bluetooth® device is connected to the in-vehicle audio system, it will automatically reconnect whenever the device is present in the vehicle and you select Bluetooth® Audio from your audio system.
You do not need to manually reconnect for each usage.
Wireless LAN (Wi-Fi) and the Bluetooth® functions share the same frequency band (2.4 GHz). Using the Bluetooth® and the wireless LAN functions at the same time may slow down or disconnect the communication and cause undesired noise. It is recommended that you turn off the wireless LAN (Wi-Fi) when using the Bluetooth® functions.
See also:
Brake and clutch fluid
For further brake and clutch fluid information, see "Capacities and recommended fuel/lubricants" of this manual. WARNING • Use only new fluid from a sealed container. Old, inferior or contaminated f ...
Switch Beeps settings (models without navigation system)
Switch Beeps settings (models without navigation system) The "Switch Beeps" screen will appear when pushing the SETTING button, selecting the "Switch Beeps" key with the INFINITI controller and p ...
Keys
A key number plate is supplied with your keys. Record the key number and keep it in a safe place (such as your wallet), not in the vehicle. If you lose your keys, see an INFINITI retailer for dupli ...