During a call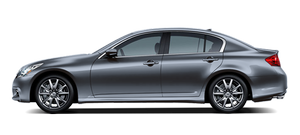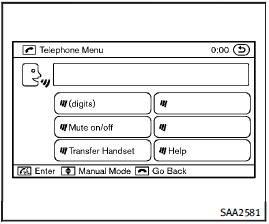 During a call
During a call there are several command options available. Press the

button on the steering wheel to mute the receiving voice and enter commands.
• "(digits)" — Use the Send command to enter numbers during a call. For example, if directed to dial an extension by an automated system: Speak: "Sending one two three four." The system acknowledges the command and sends the tones associated with the numbers. The system then ends the VR session and returns to the call.
• "Mute on/off" — Use the Mute command to mute the user's voice so the other party cannot hear it.
Use the mute command again to unmute the user's voice.
• "Transfer Handset" — Use the Transfer Handset command to transfer the call from the Bluetooth® Hands-Free Phone System to a cellular phone when privacy is desired. The system announces, "Transfer Handset. The call is transferred to the handset only." The system then ends the VR session.
The Transfer Call command can also be issued again to return to a hands-free call through the vehicle.
• "Help" — The system announces the available commands.
NOTE:
If the other party ends the call or the cellular phone network connection is lost while the Mute feature is on, the Mute feature may need to be reset to "off."
See also:
Pregnant women
INFINITI recommends that pregnant women use seat belts. The seat belt should be worn snug, and always position the lap belt as low as possible around the hips, not the waist, and place the s ...
Using the system
Depress the brake pedal and hold it down. Depress the brake pedal with firm steady pressure, but do not pump the brakes. The ABS will operate to prevent the wheels from locking up. Steer the vehicle ...
Overview
The Infiniti G37 Coupé offers dramatic performance in a thoroughly seductive shape. Although sharing a great deal of hardware with the Infiniti G37 Sedan, the Coupé is designed to ap ...