Conventional (fixed speed) cruise control mode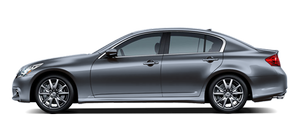 This mode allows driving at a speed between 25 to 89 MPH (40 to 144 km/h) without keeping your foot on the accelerator pedal.
WARNING
Х In the conventional (fixed speed) cruise control mode, a warning chime does not sound to warn you if you are too close to the vehicle ahead, as neither the presence of the vehicle ahead nor the vehicle-to-vehicle distance is detected.
Х Pay special attention to the distance between your vehicle and the vehicle ahead of you or a collision could occur.
Х Always confirm the setting in the Intelligent Cruise Control system display.
Х Do not use the conventional (fixed speed) cruise control mode when driving under the following conditions:
Ч when it is not possible to keep the vehicle at a set speed
Ч in heavy traffic or in traffic that varies in speed
Ч on winding or hilly roads
Ч on slippery roads (rain, snow, ice, etc.)
Ч in very windy areas
Х Doing so could cause a loss of vehicle control and result in an accident.
See also:
Driving the vehicle
Continuously Variable Transmission (CVT) The Continuously Variable Transmission (CVT) in your vehicle is electronically controlled to produce maximum power and smooth operation. The recommended op ...
Sport mode
Adjusts the engine and transmission points to enhance performance. Turn the drive mode select switch to the SPORT position. УSPORTФ appears in the vehicle information display for 2 seconds. NOTE: ...
Engine compartment
Engine compartment VQ25HR/VQ37VHR engine 1. Fuse/fusible link holder2. Battery3. Engine oil filler cap4. Brake fluid reservoir5. Clutch fluid reservoir (Manual Transmission models)6. Window washer ...