Increasing fuel economy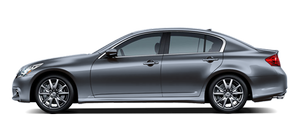 Х Accelerate slowly and smoothly. Maintain cruising speeds with a constant accelerator position.
Х Drive at moderate speeds on the highway.
Х Avoid unnecessary stopping and braking.
Keep a safe distance behind other vehicles.
Х Select a gear range suitable to road conditions.
Х Avoid unnecessary prolonged engine idling.
Х Keep your engine tuned up.
Х Follow the recommended periodic maintenance schedule.
Х Keep the tires inflated at the correct pressure. Improper tire pressure will increase wear and waste fuel.
Х Make sure the front wheels are properly aligned. Improper alignment will cause premature tire wear and lower fuel economy.
Х Climate control operation lowers fuel economy. Use the air conditioner only when necessary.
Х When cruising at highway speeds, it is more economical to use the air conditioner and leave the windows closed to reduce drag.
See also:
Parking brake break-in
Break in the parking brake shoes whenever the stopping effect of the parking brake is weakened or whenever the parking brake shoes and/or drums/rotors are replaced, in order to assure the best braking ...
Tilt/telescopic steering
WARNING ● Do not adjust the steering wheel while driving. You could lose control of your vehicle and cause an accident. ● Do not adjust the steering wheel any closer to you than is n ...
Locking with mechanical key
The power door lock system allows you to lock or unlock all doors simultaneously using the mechanical key. ► Turning the driverТs door key cylinder to the front of the vehicle 1 will l ...