Push starting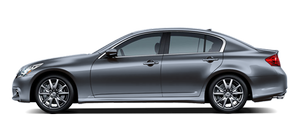 Do not attempt to start the engine by pushing.
CAUTION
• Automatic transmission models cannot be push-started or tow-started. Attempting to do so may cause transmission damage.
• Three way catalyst equipped models should not be started by pushing since the three way catalyst may be damaged.
• Never try to start the vehicle by towing it; when the engine starts, the forward surge could cause the vehicle to collide with the tow vehicle.
If needed, Roadside Assistance is available.
Please see your Warranty Information Booklet or Roadside Assistance I.D. Card for the toll-free number to call (U.S.) or Warranty & Roadside Assistance Information Booklet (Canada).
See also:
Temperature A, B and C
The temperature grades A (the highest), B, and C, representing the tire's resistance to the generation of heat and its ability to dissipate heat when tested under controlled conditions on a sp ...
Connecting procedure
1. Push the PHONE button or the button, and select the "Connect Phone" key. SAA2520 2. When a PIN code appears on the screen, operate the compatible Bluetooth ® cellular phone to enter the PIN cod ...
Troubleshooting guide
The system should respond correctly to all voice commands without difficulty. If problems are encountered, follow the solutions given in this guide for the appropriate error. Where the solutions ar ...