Cleaning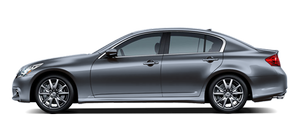 If your windshield is not clear after using the windshield washer or if a wiper blade chatters when running, wax or other material may be on the blade or windshield.
Clean the outside of the windshield with a washer solution or a mild detergent. Your windshield is clean if beads do not form when rinsing with clear water.
Clean each blade by wiping it with a cloth soaked in a washer solution or a mild detergent. Then rinse the blade with clear water. If your windshield is still not clear after cleaning the blades and using the wiper, replace the blades.
Worn windshield wiper blades can damage the windshield and impair driver vision.
See also:
Operating tips
● When the shift selector is shifted to the R (Reverse) position, the display screen automatically changes to the RearView Monitor mode. However, the radio can be heard. ● When the view ...
Download Handset Phonebook
Download the contacts registered in a Bluetooth® cellular phone. Availability of this function depends on each cellular phone. The memory downloading procedure from the cellular phone also varies acco ...
If your vehicle is stolen
If your vehicle is stolen, you should change the codes of any non-rolling code device that has been programmed into HomeLink®. Consult the Owner's Manual of each device or call the manufacture ...