Cleaning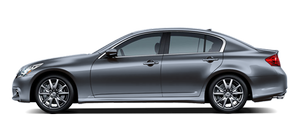 If your windshield is not clear after using the windshield washer or if a wiper blade chatters when running, wax or other material may be on the blade or windshield.
Clean the outside of the windshield with a washer solution or a mild detergent. Your windshield is clean if beads do not form when rinsing with clear water.
Clean each blade by wiping it with a cloth soaked in a washer solution or a mild detergent. Then rinse the blade with clear water. If your windshield is still not clear after cleaning the blades and using the wiper, replace the blades.
Worn windshield wiper blades can damage the windshield and impair driver vision.
See also:
Antenna
Window antenna The antenna pattern is printed inside the rear window. CAUTION • Do not place metalized film near the rear window glass or attach any metal parts to it. This may cause poor reception ...
Settings
The setting mode allows you to change the information displayed in the vehicle information display: ● Driver Assistance (if so equipped) ● Main Menu Selection ● Body Color ...
Washing
Wash dirt off the vehicle with a wet sponge and plenty of water. Clean the vehicle thoroughly using a mild soap, a special vehicle soap or general purpose dishwashing liquid mixed with clean, lukewarm ...