Cleaning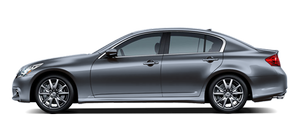 If your windshield is not clear after using the windshield washer or if a wiper blade chatters when running, wax or other material may be on the blade or windshield.
Clean the outside of the windshield with a washer solution or a mild detergent. Your windshield is clean if beads do not form when rinsing with clear water.
Clean each blade by wiping it with a cloth soaked in a washer solution or a mild detergent. Then rinse the blade with clear water. If your windshield is still not clear after cleaning the blades and using the wiper, replace the blades.
Worn windshield wiper blades can damage the windshield and impair driver vision.
See also:
VQ37VHR engine
Use unleaded premium gasoline with an octane rating of at least 91 AKI (Anti-Knock Index) number (Research octane number 96). If premium gasoline is not available, unleaded regular gasoline with an o ...
Sedan
1. Park the vehicle on flat, level ground. 2. Locate the center position A as illustrated. Position the license plate bracket at a distance of approximately 0.35 in (9 mm) B from the bottom of th ...
E-85 fuel
E-85 fuel is a mixture of approximately 85% fuel ethanol and 15% unleaded gasoline. E-85 can only be used in a Flexible Fuel Vehicle (FFV). Do not use E- 85 fuel in your vehicle. U.S. government regul ...