Operating tips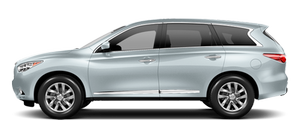 ● When the shift selector is shifted to the R (Reverse) position, the display screen automatically changes to the RearView Monitor mode. However, the radio can be heard.
● When the view is switched, the display images on the screen may be displayed in some delay.
● When the temperature is extremely high or low, the screen may not clearly display objects.
This is not a malfunction.
● When strong light is directly coming on the camera, objects may not be displayed clearly. This is not a malfunction.
● Vertical lines may be seen in objects on the screen. This is due to strong reflected light from the bumper. This is not a malfunction.
● The screen may flicker under fluorescent light. This is not a malfunction.
● The colors of objects on the RearView Monitor may differ somewhat from the actual color of objects. This is not a malfunction.
● Objects on the monitor may not be clear in a dark environment. This is not a malfunction.
● If dirt, rain or snow accumulates on the camera, the RearView Monitor may not display objects clearly. Clean the camera.
● Do not use alcohol, benzine or thinner to clean the camera. This will cause discoloration.
To clean the camera, wipe with a cloth dampened with diluted mild cleaning agent and then wipe with a dry cloth.
● Do not damage the camera as the monitor screen may be adversely affected.
● Do not use wax on the camera lens. Wipe off any wax with a clean cloth that has been dampened with a mild detergent diluted with water.
See also:
On-pavement and off-road driving precautions
Utility vehicles have a significantly higher rollover rate than other types of vehicles. They have higher ground clearance than passenger cars to make them capable of performing in a variety of on-pa ...
Hood
Hood 1. Pull the hood lock release handle 1 located below the instrument panel; the hood will then spring up slightly. 2. Pull the lever 2 up at the front of the hood with your fingertips and rais ...
Power steering
WARNING If the engine is not running or is turned off while driving, the power assist for the steering will not work. Steering will be harder to operate. The power assisted steering uses a hydraulic ...