AM radio reception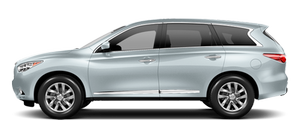 AM signals, because of their low frequency, can bend around objects and skip along the ground.
In addition, the signals can be bounced off the ionosphere and bent back to earth. Because of these characteristics, AM signals are also subject to interference as they travel from transmitter to receiver.
Fading: Occurs while the vehicle is passing through freeway underpasses or in areas with many tall buildings. It can also occur for several seconds during ionospheric turbulence even in areas where no obstacles exist.
Static: Caused by thunderstorms, electrical power lines, electric signs and even traffic lights.
See also:
Precautions on seat belt usage
If you are wearing your seat belt properly adjusted, and you are sitting upright and well back in your seat with both feet on the floor, your chances of being injured or killed in an accident and/or t ...
Engine compartment
Engine compartment VQ25HR/VQ37VHR engine 1. Fuse/fusible link holder2. Battery3. Engine oil filler cap4. Brake fluid reservoir5. Clutch fluid reservoir (Manual Transmission models)6. Window washer ...
Operating the HomeLink® Universal Transceiver
HomeLink® Universal Transceiver (once programmed) may now be used to activate the garage door, etc. To operate, simply push the appropriate programmed HomeLink® Universal Transceiver button. ...