AM radio reception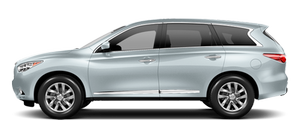 AM signals, because of their low frequency, can bend around objects and skip along the ground.
In addition, the signals can be bounced off the ionosphere and bent back to earth. Because of these characteristics, AM signals are also subject to interference as they travel from transmitter to receiver.
Fading: Occurs while the vehicle is passing through freeway underpasses or in areas with many tall buildings. It can also occur for several seconds during ionospheric turbulence even in areas where no obstacles exist.
Static: Caused by thunderstorms, electrical power lines, electric signs and even traffic lights.
See also:
Warning light
WARNING light When the system is not operating properly, the chime sounds and the system warning light (orange) will come on. Action to take: If the warning light comes on, park the vehicle in a ...
Entry/exit function (Automatic Transmission Sedan models)
This system is designed so that the driver's seat and steering column will automatically move when the automatic transmission selector lever is in the P (Park) position. This allows the driver to get ...
INFINITI Voice Recognition Standard Mode
The Standard Mode enables control of navigation, phone and vehicle information. With this setting active, commands that are available are always shown on the display and announced by the system. Disp ...