Satellite radio reception (if so equipped)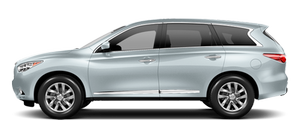 When the satellite radio is used for the first time or the battery has been replaced, the satellite radio may not work properly. This is not a malfunction.
Wait more than 10 minutes with satellite radio ON and the vehicle outside of any metal or large building for satellite radio to receive all of the necessary data.
The satellite radio mode will be skipped unless an optional satellite receiver and antenna are installed and a SiriusXM Satellite Radio service subscription is active. Satellite radio is not available in Alaska, Hawaii and Guam.
Satellite radio performance may be affected if cargo carried on the roof blocks the satellite radio signal.
If possible, do not put cargo over the satellite antenna.
A build up of ice on the satellite radio antenna can affect satellite radio performance. Remove the ice to restore satellite radio reception.
XM is a registered trademark of SiriusXM Satellite Radio, Inc.
See also:
Power steering
WARNING If the engine is not running or is turned off while driving, the power assist for the steering will not work. Steering will be harder to operate. The power assisted steering uses a ...
Stowing golf bags (Coupe)
Stowing golf bags (Coupe) Normally, two standard golf bags can be stowed in the trunk. Insert the top of the golf bag into left side of the trunk room 1 then put the bag forward 2 . Insert the to ...
When traveling or registering your vehicle inanother country
If you plan to travel in another country, you should first find out if the fuel available is suitable for your vehicle's engine. Using fuel with too low an octane rating may cause engine dam ...