Care and maintenance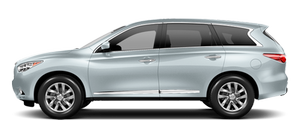 Use a lightly dampened, lint free cloth to clean the surfaces of your Dual Head Restraint DVD System (DVD player face, screen, remote controller, etc.).
CAUTION
● Do not use any solvents or cleaning solutions when cleaning the video system.
● Do not use excessive force on the monitor screen.
● Avoid touching or scratching the monitor screen as it may become dirty or damaged.
● Do not attempt to operate the system in extreme temperature conditions [below 4°F ( 20°C) and above 158°F (70°C)]
● Do not attempt to operate the system in extreme humidity conditions (less than 10% or more than 75%).
See also:
INFINITI Vehicle Immobilizer System
The INFINITI Vehicle Immobilizer System will not allow the engine to start without the use of the registered Intelligent Key. Never leave these keys in the vehicle. Statement related to section 15 o ...
Off-road recovery
If the right side or left side wheels unintentionally leave the road surface, maintain control of the vehicle by following the procedure below. Please note that this procedure is only a genera ...
Washing
Wash dirt off the vehicle with a wet sponge and plenty of water. Clean the vehicle thoroughly using a mild soap, a special vehicle soap or general purpose dishwashing liquid mixed with clean, lukewarm ...