Care and maintenance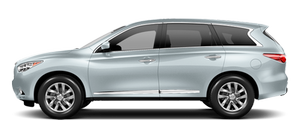 Use a lightly dampened, lint free cloth to clean the surfaces of your Dual Head Restraint DVD System (DVD player face, screen, remote controller, etc.).
CAUTION
● Do not use any solvents or cleaning solutions when cleaning the video system.
● Do not use excessive force on the monitor screen.
● Avoid touching or scratching the monitor screen as it may become dirty or damaged.
● Do not attempt to operate the system in extreme temperature conditions [below 4°F ( 20°C) and above 158°F (70°C)]
● Do not attempt to operate the system in extreme humidity conditions (less than 10% or more than 75%).
See also:
Making a call
Making a call To make a call, follow this procedure. 1. Push the PHONE button on the instrument panel or the button on the steering wheel. The "PHONE" screen will appear on the display. 2. Sel ...
Wet brakes
When the vehicle is washed or driven through water, the brakes may get wet. As a result, your braking distance will be longer and the vehicle may pull to one side during braking. To dry brakes, driv ...
Troubleshooting guide
The system should respond correctly to all voice commands without difficulty. If problems are encountered, try the following solutions. Where the solutions are listed by number, try each solution i ...