Emergency engine shut off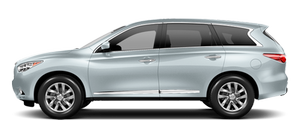 To shut off the engine in an emergency situation while driving, perform the following procedure:
– Rapidly push the push-button ignition switch 3 consecutive times in less than 1.5 seconds, or
– Push and hold the push-button ignition switch for more than 2 seconds.
See also:
Draining of coolant water
If the vehicle is to be left outside without antifreeze, drain the cooling system, including the engine block. Refill before operating the vehicle. For details, see "Engine cooling system" in ...
Vehicle load capacity
Do not exceed the load limit of your vehicle shown as "The combined weight of occupants and cargo" on the Tire and Loading Information label. Do not exceed the number of occupants shown as "Seating ...
Octane rating tips
Using unleaded gasoline with an octane rating lower than recommended above can cause persistent, heavy spark knock. (Spark knock is a metallic rapping noise.) If severe, this can lead to engine damag ...