INFINITI vehicle immobilizer system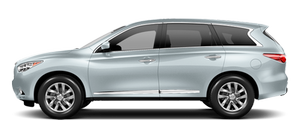 The INFINITI Vehicle Immobilizer System will not allow the engine to start without the use of the registered key.
If the engine fails to start using the registered key, it may be due to interference caused by another registered key, an automated toll road device or automated payment device on the key ring. Restart the engine using the following procedures:
1. Leave the ignition switch in the ON position for approximately 5 seconds.
2. Turn the ignition switch to the OFF or LOCK position and wait approximately 5 seconds.
3. Repeat step 1 and 2 again.
4. Restart the engine while holding the device (which may have caused the interference) separate from the registered key.
If the no start condition re-occurs, INFINITI recommends placing the registered key on a separate key ring to avoid interference from other devices.
See also:
Chrome parts
Clean chrome parts regularly with a nonabrasive chrome polish to maintain the finish. ...
Interior light control switch
Interior light control switch The interior light control switch has three positions: ON, DOOR and OFF. ON position When the switch is in the ON position 1 the map lights and rear personal lights ...
Compressed Video Files (models withNavigation System)
Explanation of terms: ● DivX – DivX refers to the DivX codec owned by Div, Inc. used for a lossy compression of video based on MPEG-4. ● AVI – AVI stands for Audio Video Interleave. ...