INFINITI vehicle immobilizer system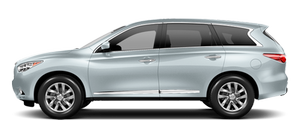 The INFINITI Vehicle Immobilizer System will not allow the engine to start without the use of the registered key.
If the engine fails to start using the registered key, it may be due to interference caused by another registered key, an automated toll road device or automated payment device on the key ring. Restart the engine using the following procedures:
1. Leave the ignition switch in the ON position for approximately 5 seconds.
2. Turn the ignition switch to the OFF or LOCK position and wait approximately 5 seconds.
3. Repeat step 1 and 2 again.
4. Restart the engine while holding the device (which may have caused the interference) separate from the registered key.
If the no start condition re-occurs, INFINITI recommends placing the registered key on a separate key ring to avoid interference from other devices.
See also:
Measurement of weights
Secure loose items to prevent weight shifts that could affect the balance of your vehicle. When the vehicle is loaded, drive to a scale and weigh the front and the rear wheels separately to ...
Voice commands
You can use voice commands to operate various Bluetooth Hands-Free Phone System features using the INFINITI Voice Recognition system. For more details, see "INFINITI Voice Recognition System" in this ...
Aluminum alloy wheels
Wash regularly with a sponge dampened in a mild soap solution, especially during winter months in areas where road salt is used. Salt could discolor the wheels if not removed. CAUTION Follow the dir ...