Active trace control (if so equipped)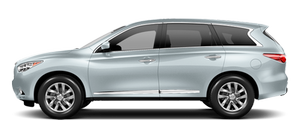 This system senses driving based on the driver's steering and acceleration/braking patterns, and controls brake pressure at individual wheels to help smooth vehicle response.
When the VDC OFF switch is used to turn off the VDC system, the active trace control system is also turned off.
If the active trace control is not functioning properly, the IBA OFF indicator light illuminates in the instrument panel.