Draining of coolant water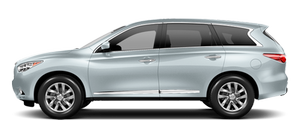 If the vehicle is to be left outside without antifreeze, drain the cooling system, including the engine block. Refill before operating the vehicle.
For details, see "Changing engine coolant" in the "Maintenance and do-it-yourself" section of this manual.
See also:
To protect your vehicle from corrosion
• Wash and wax your vehicle often to keep the vehicle clean. • Always check for minor damage to the paint and repair it as soon as possible. • Keep drain holes at the bottom of the doors open to avo ...
Emergency engine shut off
To shut off the engine in an emergency situation while driving, perform the following procedure: . Rapidly push the push-button ignition switch 3 consecutive times in less than 1.5 seconds, or• Push a ...
Appearance Updates
Following a face-lift for last year's sedan, the coupe and convertible get some rhinoplasty themselves for 2011. See the photos at right to compare, or click here for specs and features. Stretchin ...