Exterior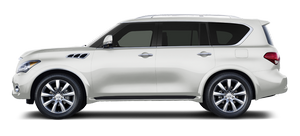 Many people have openly expressed disgust with the QX's looks. I wouldn't call it 100 percent ugly, but 60 percent ugly sounds about right. Its proportions don't help. To my eye, its beluga-whale hood bulge and low-positioned headlights don't mix well with its tall, squared-off roof. It's like a G37 sedan drove into a giant top hat and Infiniti said, yeah, let's run with that.
I drove two QXs before the styling started to grow on me, which was also after I had seen it on the road a few times. I still wouldn't call it handsome, like the Audi Q7, but the Q7's awesomely sleek exterior comes at the cost of interior room.
See also:
Rapid air pressure loss
Rapid air pressure loss or a "blow-out" can occur if the tire is punctured or is damaged due to hitting a curb or pothole. Rapid air pressure loss can also be caused by driving on under-inflated tires ...
Safety
As of this writing, the 2011 QX56 hasn't been crash-tested. Standard safety features include front and side-impact airbags, side-curtain airbags for all three rows, an electronic stability system ...
Engine
This spark ignition system complies with the Canadian standard ICES-002. ...