Exterior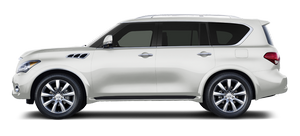 Many people have openly expressed disgust with the QX's looks. I wouldn't call it 100 percent ugly, but 60 percent ugly sounds about right. Its proportions don't help. To my eye, its beluga-whale hood bulge and low-positioned headlights don't mix well with its tall, squared-off roof. It's like a G37 sedan drove into a giant top hat and Infiniti said, yeah, let's run with that.
I drove two QXs before the styling started to grow on me, which was also after I had seen it on the road a few times. I still wouldn't call it handsome, like the Audi Q7, but the Q7's awesomely sleek exterior comes at the cost of interior room.
See also:
How to use remote keyless entry system
When you lock or unlock the doors or the trunk lid, the hazard indicator will flash and the horn (or the outside chime) will sound as a confirmation. For details, see "Setting hazard indicator and h ...
View malfunction
When the "!" icon is displayed on the screen, there will be abnormal conditions in the around view monitor. This will not hinder normal driving operation but the system should be inspected by an INF ...
It handles better.
Tucked into the IPL G Coupe's wheel wells are large 19-inch aluminum alloy wheels shod in grippy 225-width tires up front and 245-width tires out back. Twenty-percent stiffer springs suspend the v ...