Air conditioner system refrigerant and oil recommendations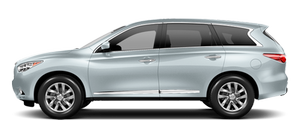 The air conditioner system in your INFINITI vehicle must be charged with the refrigerant HFC-134a (R-134a) and the oil, NISSAN A/C system oil DH-PS or the exact equivalents.
CAUTION
The use of any other refrigerant or oil will cause severe damage to the air conditioning system and will require the replacement of all air conditioner system components.
The refrigerant HFC-134a (R-134a) in your INFINITI vehicle does not harm the earth's ozone layer. Although this refrigerant does not affect the earth's atmosphere, certain government regulations require the recovery and recycling of any refrigerant during automotive air conditioner system service. An INFINITI retailer has the trained technicians and equipment needed to recover and recycle your air conditioner system refrigerant.
Contact an INFINITI retailer when servicing your air conditioner system.
See also:
It's the little things that count
Storage Compartments (Puny, Fair, Ample, Galore): Fair Cargo/Trunk Space (Puny, Fair, Ample, Galore): Fair ...
Jacking up vehicle and removing thedamaged tire
WARNING ● Never get under the vehicle while it is supported only by the jack. If it is necessary to work under the vehicle, support it with safety stands. ● Use only the jack provide ...
Exterior
Many people have openly expressed disgust with the QX's looks. I wouldn't call it 100 percent ugly, but 60 percent ugly sounds about right. Its proportions don't help. To my eye, its beluga-whale ...