Terms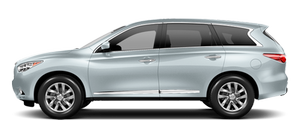 It is important to familiarize yourself with the following terms before loading your vehicle:
● Curb Weight (actual weight of your vehicle) - vehicle weight including: standard and optional equipment, fluids, emergency tools, and spare tire assembly. This weight does not include passengers and cargo.
● GVW (Gross Vehicle Weight) - curb weight plus the combined weight of passengers and cargo.
● GVWR (Gross Vehicle Weight Rating) - maximum total combined weight of the unloaded vehicle, passengers, luggage, hitch, trailer tongue load and any other optional equipment. This information is located on the F.M.V.S.S./C.M.V.S.S. certification label.
● GAWR (Gross AxleWeight Rating) - maximum weight (load) limit specified for the front or rear axle. This information is located on the F.M.V.S.S./C.M.V.S.S. certification label.
● GCWR (Gross Combined Weight rating) - The maximum total weight rating of the vehicle, passengers, cargo, and trailer.
● Vehicle Capacity Weight, Load limit, Total load capacity - maximum total weight limit specified of the load (passengers and cargo) for the vehicle.
This is the maximum combined weight of occupants and cargo that can be loaded into the vehicle. If the vehicle is used to tow a trailer, the trailer tongue weight must be included as part of the cargo load. This information is located on the Tire and Loading Information label.
● Cargo capacity - permissible weight of cargo, the subtracted weight of occupants from the load limit.
See also:
Speaker Adaptation function
The Voice Recognition system has a function to learn the user's voice for better voice recognition performance. The system can memorize the voices of up to three persons. Having the system learn ...
Troubleshooting guide
The system should respond correctly to all voice commands without difficulty. If problems are encountered, try the following solutions. Where the solutions are listed by number, try each solution ...
Phonebook
• (a name) Use the name command to seek the name and locations registered in the phonebook in alphabetical order. When the system acknowledges the alphabet the user spoke, the system announces all ...