FX in the Market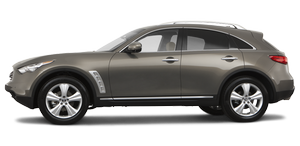 Off-road SUVs proliferated before their numbers thinned, leaving healthy demand for stalwarts like Jeep. Conversely, SUVs designed primarily for on-road sport, like the FX, didn't become a significant subsegment. Does that mean the FX will remain a niche favorite, or will it lose its appeal? As drivability improves among more versatile crossover models Ч including Infiniti's new JX model, a seven-seater Ч the FX's limitations seem greater. They might even be greater than whatever performance advantages it brings Ч especially if you object to the transmission's behavior.
We at Cars.com frequently criticize vehicles that exhibit accelerator hesitation Ч certainly more than most review sources do. Why there isn't more outcry baffles us. It's possible you could drive an FX happily and never object to its behavior, but you should be sure to pay attention when testing it. It's easy to miss important attributes in the excitement and sensory overload of a test drive.
See also:
Vehicle-to-vehicle distance control mode
In the vehicle-to-vehicle distance control mode, the Intelligent Cruise Control (ICC) system automatically maintains a selected distance from the vehicle traveling in front of you according to that ve ...
Storage box (if so equipped)
Storage box (if so equipped) To open, push the storage box lid 1 as illustrated. Do not place valuable items in the storage box. Do not use the storage box as an ashtray. ...
3rd row bench seat adjustment
Outboard seats Reclining To recline the seatback, pull up on the latch located on the outside corner of each seatback. Lean back until the desired angle is obtained. To bring the seatback f ...