Engine compartment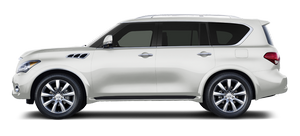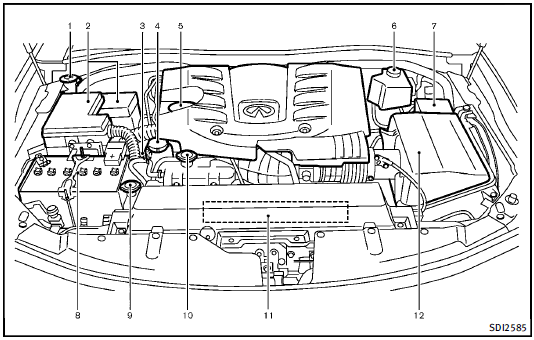 VK56VD ENGINE
1. Window washer fluid reservoir (P.8-15)
2. Fuse/fusible link holder (P.8-22)
3. Engine oil dipstick (P.8-10)
4. Power steering fluid reservoir (P.8-13)
5. Engine oil filler cap (P.8-10)
6. Brake fluid reservoir (P.8-14)
7. Fuse/fusible link holder (P.8-22)
8. Battery (P.8-16)
9. Radiator filler cap (P.8-8)
10. Engine coolant reservoir (P.8-8)
11. Drive belts (P.8-18)
12. Air cleaner (P.8-19)
Illustrated
See also:
Compressed Video Files (models with navigation system)
Explanation of terms: • DivX® - DivX® refers to the DivX® codec owned by DivX, Inc. used for a lossy compression of video based on MPEG- 4. • AVI - AVI stands for Audio Video Interleave. It is a sta ...
Going & Stopping
The M35 should be fine for most drivers, as Infiniti tuned its V-6 this year for more high-revving horsepower — an impressive 303 hp, to be exact — but less torque, which is the low-end grunt you ...
Smooth Power, Rough Ride
Driving the IPL home after a long workweek was like slamming a shot of espresso. It's fast and exhilaratingly fun to drive … but so is the base G37 coupe. The IPL adds 18 hp, but I really couldn't ...