Front seats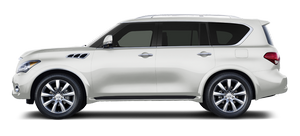 Front power seat adjustment Operating tips:
► The power seat motor has an auto-reset overload protection circuit. If the motor stops during operation, wait 30 seconds, then reactivate the switch.
► Do not operate the power seat switch for a long period of time when the engine is off. This will discharge the battery. See "Automatic drive positioner" in the "3. Pre-driving checks and adjustments" section for the seat position memory function.

CAUTION
When adjusting the seat positions, be sure not to contact any moving parts to avoid possible injuries and/or damages.
Forward and backward:
Moving the switch1 forward or backward will slide the seat forward or backward to the desired position. Reclining: Move the recline switch2 backward until the desired angle is obtained. To bring the seatback forward again, move the switch 2 forward. The reclining feature allows adjustment of the seatback for occupants of different sizes for added comfort and to help obtain proper seat belt fit. (See "Precautions on seat belt usage" later in this section.) Also, the seatback can be reclined to allow occupants to rest when the vehicle is stopped and the transmission is in the P (Park) position.
Seat lifter:
1. Pull up or push down the adjusting switch to adjust the seat height until the desired position is achieved. 2. Tilt up or down the adjusting switch to adjust the front angle of the seat until the desired position is achieved (for driver's seat).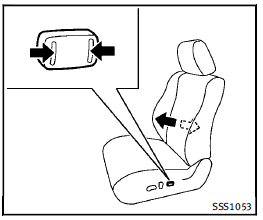 Lumbar support:
The lumbar support feature provides lower back support to the occupants. Push the front or back end of the switch to adjust the seatback lumbar area.
See also:
Automatic anti-glare type
The inside mirror is designed so that it automatically changes reflection according to the intensity of the headlights of the following vehicle. The anti-glare system will be automatically turned on ...
Minimize voice feedback (for Alternate Command Mode)
To minimize the voice feedback from the system, perform the following steps. 1. Push the SETTING button on the instrument panel. 2. Select the "Others" key. 3. Select the "Voice Recognition" key. ...
Changing wheels and tires
Tire rotation INFINITI recommends rotating the tires every 7,500 miles (12,000 km). See "Flat tire" in the "In case of emergency" section of this manual for tire replacing procedures. As soon a ...