Overview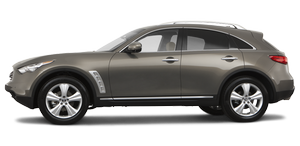 It is the sports car among luxury crossovers, the most dynamic looking car in the class and inspired in all the right places - chiefly performance. As the best-selling model in Infiniti's European range, it is also the car that has introduced the luxury automotive brand from Japan to more people in Europe than any other. It is the Infiniti FX, the perfect fusion of sports car and SUV and the car that created a whole new product category. In just four years the FX has become not just the brand icon in Europe but also the standard-bearer for the driving pleasure, peace of mind and hospitality on which Infiniti is founded.
Now it is time for the Infiniti FX to look to the future - starting here with the 2012 range. An array of finely-judged enhancements combines with recent FX developments such as its five-star EuroNCAP crash test result and available extra features ¬- including power tailgate and award-winning Lane Departure Prevention - to make the most complete, polished and appealing FX yet.
The new FX is most changed at the front, inheriting the same face as the upcoming Infiniti FX Vettel Version, which itself picks up on design cues explored by Infiniti's highly influential 2009 concept car, Essence. The new grille and revised bumper profile, together with new foglights set in chrome surrounds, define a look that is more FX than ever, reinforcing the FX's position as the most athletic-looking large crossover on the road. Inside, there are small but important changes that similarly reinforce the essential FX DNA.
Sporting appeal is ramped up on GT and GT Premium derivatives with a new and distinctive, five double-spoke design of 20-inch wheel; S versions, with the availability of Rear Active Steering (RAS) among a long list of handling-oriented features, stay with their 21-inch wheels. More choice for Infiniti FX owners is offered with the latest exterior paint colour, Iridium Blue. It is Infiniti's newest Scratch Shield finish and available exclusively on the FX. Graphite Shadow is additionally available now on all FX models.
The Infiniti FX range for 2012 is made up of four grades. The GT is the complete luxury package and the S the more overtly sporting choice, while Premium versions of both the GT and the S major on technology with a wide-ranging suite of safety and convenience features as standard. All grades are available with either a 3.0-litre V6 diesel of 175kW (238PS) and impressive 550Nm of torque, or Infiniti's charismatic 3.7-litre petrol V6 offering 235kW (320PS). The current performance flagship, the FX50 with 287kW (390PS) 5.0-litre V8, is available in S Premium guise only. Every FX is equipped with Infiniti's intelligent torque-sensing all-wheel drive system as well as a 7-speed adaptive shift automatic transmission with solid magnesium gearshift paddles on the steering wheel.
The pinnacle of the FX range, the FX Vettel Version, is due to reach its first owners early in 2013. The most powerful, expensive and exclusive Infiniti ever sold in Europe, the FX Vettel Version is a collaboration between Red Bull Racing's World Champion driver and Infiniti global brand ambassador, Sebastian Vettel, and Infiniti's Chief Creative Officer, Shiro Nakamura. Just 200 of the 420PS V8 models will be available worldwide, with reservations now being taken.
To mark the launch of the 2012 Infiniti FX range, Infiniti is embarking on a new pan-European TV advertising campaign featuring Sebastian Vettel, a long-time FX owner who describes the car as the perfect fit for his lifestyle.
FX in Europe - the story so far
The all-new FX, latest generation of a model previously sold chiefly in the USA, made its European debut at the Geneva show in 2008, forming a key part of the brand's European launch later that year. Acclaimed for rewriting the large crossover design rulebook, it quickly became synonymous with everything the new luxury brand from Japan stands for, putting Infiniti's fresh thinking on performance, design and customer service firmly on the European map.
The Infiniti FX became a hit with buyers in all corners of the continent, establishing itself as the best-selling Infiniti. The FX established something else too: by selling mostly in top S Premium grade, it began a trend for high-spec models that has characterised all Infiniti sales in Europe since then. Today, eight out of 10 FXs in Europe are fitted with Intelligent Cruise Control and Around View Monitor while virtually all (98%) are equipped with the acclaimed Connectiviti+ navigation and entertainment system.
The FX37 and FX50 were joined in 2010 by an FX powered by an all-new 3.0-litre V6 diesel engine, precursor of a diesel-engined family of Infinitis for Europe. Just as much a high performance machine as any petrol-powered Infiniti, the FX30d's massive 550Nm of torque immediately put it in the front rank of diesel-engined crossovers.
Reflecting the brand's uniquely different take on the luxury car market, Infiniti owners are all individuals, successful free-thinkers who are neither hidebound by the past nor concepts of badge snobbery. They are young by class standards (average age is 48), invariably own a business and more than 90% of them have traded up from other premium brands, most commonly BMW (followed by Audi, Mercedes and Porsche). More than 70% of FX customers already owned an SUV. Owners place design as the number one FX strength, closely followed by standard equipment, technology, acceleration, quality and interior style. Infiniti FX owners love their cars, as shown by a 93% satisfaction rating - far higher than the average for the class.
The 2012 Infiniti FX goes on sale in Europe at a time when the FX's market performance is stronger than ever, with sales up 31% in 2011 over the previous year. Germany is the FX's largest market, the top six completed by the UK, Italy, Spain, France and Belgium. Pan-European engine mix of the 2012 FX range is expected to be 90% diesel, 4% V8 petrol and 6% V6 petrol.
Exterior design
Acknowledged by many to be in a design class of its own within the large crossover sector, the FX's sports car-inspired looks and proportions continue to stand out in a market populated by much boxier shapes. Buyers consistently cite design as their number one reason for choosing the FX, with almost a third more declaring it their first priority compared with the Porsche Cayenne. For 2012, and the first refresh of the car's appearance since the FX made its debut in Geneva in 2008, the model gets more of what makes it so sportily distinctive.
Body changes are confined to the front of the car. Infiniti's trademark double arch grille has been subtly reshaped at the sides, forming a powerful new line that connects the grille more clearly with the wings and bonnet. It is a more integrated look that reinforces the dynamism by tieing the whole front end together even more tautly. The expressive design was first explored on the Infiniti Essence of 2009 - what is still a highly influential concept for the company - and has since been adopted on other models in the Infiniti range, including 2013's FX Vettel Version.
As well as the new grille and reprofiled bumper section, there is a new look lower down at the front where the foglights are now set in teardrop-shaped chrome trims. Bold new paint finishes and a distinctive new design of lightweight 20-inch alloy wheel join with the new front treatment to present what is a freshly distinctive overall appearance for 2012. In the new and only-for-FX Iridium Blue paint, the FX's undoubted street presence is taken up a notch, particularly in GT and GT Premium form. Exclusive to these models is a new five double-spoke alloy wheel designed to represent the ultimate in Infiniti high performance. S and S Premium models stay with 21-inch wheels.
In other ways the 2012 FX stays faithful to its predecessor's athletic good looks, so expressive of the model's performance personality. Dominated by its long and flowing bonnet, muscular shoulder line and coupé-like window profile, its body eschews the traditional boxy and "on stilts" 4x4 look in favour of a far sleeker profile, albeit one that still delivers all the room and versatility that buyers expect of large crossovers.
The powerful stance is heightened by a long wheelbase and wide track, leaving only vestigial overhangs, particularly at the front where the engine sits low down and far back in Infiniti's FM "front-midship" chassis. It's an arrangement that brings dynamic as well as aesthetic advantages.
Interior design
Little needed to be done to refresh an interior whose ambience, quality and comfort perfectly sum up the Infiniti ethos with its reliance on organic shapes and natural materials. So little was done. The key changes inside the 2012 FX are a switch from red to white for the needles on the dials and clearer new white illumination for the trip computer panel - a perfect illustration of Infiniti's obsession with perfection in every detail.
The Infiniti FX's interior is just as successful as the exterior design at marrying the appeal of a sports car with the passenger comforts, and space, of a luxury sedan. The FX offers high-set seats and superb all-round visibility - aided on Premium versions by Around View Monitor. Even the biggest fans of the "command" driving position will approve. Everything for the driver has been designed with utmost clarity, precision and intuitive feel in a notably driver-centric way.
Attention to detail shows in the diagonally stitched leather upholstery and elegant analogue clock, while Infiniti insists on using as many natural materials as possible - witness not just the quilted leather and Maple Wood trim, but also the wool carpet and solid metal fittings such as the aluminium pedals and magnesium gear shift paddles. The richness of the materials allied to Infiniti's modern take on traditional Japanese craftsmanship results in a cabin with a warmth at odds with the colder, more technical appeal of German rivals.
FX seats lack for nothing. The GT driver's seat comes with 10-way power adjustment, including the all-important variable lumbar support to ensure long journeys pass ache-free. The S gets sports seats featuring 14-way electric adjustment; both thigh and backrest bolsters can be moved in or out to ensure ideal cornering support. Unlike some makes, the passenger is not left out: every FX comes with an 8-way power front passenger seat. Both front seats in all 2012 FX versions feature both heating and cooling systems. In the rear, the seat backrests recline for added passenger comfort on longer journeys.
While the Infiniti FX's long wheelbase ensures plenty of legroom for up to five people and a 410-litre boot, it also allows the flagship Infiniti to double up as an effective load carrier when required. The rear seat backrests, split one-third/two-thirds, fold down to extend the completely flat luggage deck when extra cargo space is needed.
A power tailgate, standard on all versions, enhances the FX's already impressive convenience. The height the tailgate opens to is programmable so there are no concerns when operating the door in restricted spaces. For maximum ease of use, the tailgate can be raised or lowered from a switch on the dashboard, from buttons both inside and outside the tailgate, or remotely from the I-Key.
All 2012 FXs come with quilted leather seat facings. Standard interior trim is Cello Flame Maple, with black lacquer and aluminium one of very few options.
Drivetrains: V9X - Infiniti's first diesel engine
The Infiniti FX's newest, lowest CO2 engine is also its torquiest, with more pull even than the 5.0-litre petrol V8. The resultant outstanding overtaking ability goes hand-in-hand in the 2012 FX30d with signature Infiniti refinement and fuel efficiency that offers the potential of an 1100km touring range thanks to an extra-urban fuel consumption of 7.8 l/100km.
Developed by the Alliance but very much a bespoke Infiniti powerplant, the V9X is a common-rail 3.0-litre V6 with piezo injection and 1800 bar fuel pressure. Its engine block is made of compacted graphite iron (CGI) to save weight -something at which the FX is already notably better than many rivals - while delivering the strength and refinement essential for an Infiniti. CGI is up to 75% stiffer than iron but, in the case of the FX30d's engine block, weighs 22% less. A 65 degree vee angle, with the turbo mounted within the vee, ensures maximum packaging efficiency.
Smooth and free revving, this high performance engine is virtually inaudible from inside at idle and under constant load, while what noise it emits under acceleration has been specially honed for maximum sporting appeal.
A variable nozzle turbocharger boosts power to a peak of 175kW (238PS) at 3750rpm, making it among the most powerful single-turbo diesel units available. The V6's torque output of 550Nm, which peaks at just 1750rpm, guarantees effortless acceleration when it is most needed.
Paired to the standard Adaptive Shift Control (ASC) 7-speed automatic transmission, performance is impressive: top speed is 212km/h and 0-100km/h takes just 8.3 seconds. The combined cycle fuel consumption figure is 9.0 l/100km and CO2 is 238g/km.
Drivetrains: 5.0-litre V8 - power with efficiency
Infiniti's flagship engine ensures the FX50 is one of the fastest and most rewarding crossovers on the road, with a breathtaking turn of speed and the muscular exhaust note to back it up. Featuring twin symmetrical air intakes, microfinished crankshaft, lightweight pistons, super-silent cam drive chains and VVEL valve timing - Infiniti's guarantee of high power but also maximum efficiency - the V8 is an engineering masterclass.
The engine delivers 287kW (390PS) at 6500rpm, with a red-line 300rpm higher - relatively high for a V8 thanks to VVEL. The V8's torque peaks at 500Nm at 4400rpm, a flat curve below that ensuring pulling power is never in short supply.
The FX50 S Premium delivers stunning acceleration with 0-100km/h coming up in just 5.8 seconds, while the efficiency benefits of the VVEL system are shown by its fuel consumption of 13.1 l/100km (combined cycle) and CO2 emissions of 307g/km.
Drivetrains: 3.7-litre V6 - legendary sporting appeal
The FX37 in both GT and S guises is powered by Infiniti's illustrious 3.7-litre V6. Regularly honoured in independent awards the world over, the twin-cam 24-valve engine produces 235kW (320PS) at 7000rpm with 360Nm of torque at 5200rpm. This all-alloy sporting engine endows the FX with performance to shame many a sports car: 0-100 km/h takes just 6.8 seconds while the top speed is 233km/h.
The FX37's fuel economy (combined cycle) is 12.1 l/100km while the CO2 figure is 282g/km. The balance between performance and economy is born of an engineered-in efficiency whose headline attribute is Variable Valve Event and Lift (VVEL) which also features on the V8. This patented technology continuously adjusts the valves, unleashing not just great power but doing so with higher torque and improved emissions over conventional variable valve engines.
Enthusiasts will also notice another engineered-in trait of this charismatic engine: a sporting V6 soundtrack to please the keenest drivers.
Whatever the engine, all FXs are equipped as standard with steering wheel-mounted gearshift paddles, crafted out of solid magnesium - an integral part of the FX's inherent sporting appeal.
Mechanical layout
Under the Infiniti FX's assertive exterior is an equally advanced body structure, based around Infiniti's FM platform. The "front midship" layout ensures sports car-like front-to-rear weight balance and a relatively low centre of gravity, exactly what is needed for stable cornering. Together with a highly rigid but weight-saving body - aluminium doors alone save 20kg over steel - the FX provides not just superb handling but also very low levels of noise, vibration and harshness.
The double wishbone front/multilink rear suspension delivers the ideal balance between comfort and handling precision. Handling is brought into sharper focus on S variants with Continuous Damping Control (CDC) shock absorbers and (on all except the FX37) Rear Active Steering (RAS).
Unlike conventional fixed damping-force shock absorbers, active CDC suspension of FX S variants continuously alters the damping to provide optimal ride and handling whatever the road surface. The system features a driver-selectable switch with two settings - Auto and Sport.
The more driver-oriented emphasis of S models is highlighted in the FX30d and FX50 by RAS. Unlike passive rear steering systems, this Infiniti technology features precise, electric motor-driven control to turn the rear wheels up to one degree, helping generate a nimble steering response at low speeds and enhance stability at high speeds. The FX's steering is vehicle-speed sensitive and honed to provide good feedback and linear responses.
All FXs are equipped with one of the foremost intelligently-controlled all-wheel drive systems in production, Advanced Total Traction Engineering System for All Electronic Torque Split (ATTESA E-TS). An active torque management system controls a centre clutch to distribute torque front to rear according to traction requirements. The power is constantly being adjusted, from 100% to the rear to up to 50% to the front, so that grip is maximized on slippery surfaces. It's a system that comes into its own when driving on snow, mud or sand.
Crucially, this all-wheel drive safety doesn't compromise handling feel on dry roads. Unlike permanent 4x4 systems, which can deaden the steering and dull the driving dynamics, the FX's electromagnetic torque transfer system delivers a rear-wheel drive handling feel, even allowing for an element of oversteer.
Secure braking performance is provided by ventilated disc brakes front and rear, with 4-piston opposed front/2-piston opposed rear callipers. Intelligent Brake Assist (IBA) and Electronic Brake force Distribution (EBD) are standard.
Safety
The 2012 range of Infiniti FX crossovers has been designed to perform at the highest levels of both passive and active safety. EuroNCAP agrees: the independent safety authority has awarded the FX five stars for crash safety as well as scoring it a remarkable 99% in "safety assist" - a reflection of both the FX's highly advanced safety technologies and the fact that the majority of Infinitis sold feature them as standard equipment.
In addition in 2011 the FX was honoured with a rarely-given EuroNCAP Advanced Award in recognition of Lane Departure Prevention (LDP). When introduced in the FX in 2010, LDP represented a first in Europe. Standard on all FX Premium versions, the innovative technology "demonstrates a scientifically proven safety benefit for consumers and society," according to EuroNCAP.
Unlike simpler lane departure warning systems, LDP backs up its audible and visual alerts of an unintended lane departure with a dynamic intervention which helps steer the vehicle back into the correct lane. LDP only operates at speeds higher than 72km/h. The system needs to be activated by the driver each time the engine is started via a switch on the steering wheel, although the warning function of the system is automatically on.
Designed to reduce accidents caused by inattentive driving or drowsiness, LDP represents considerable extra peace of mind for FX drivers. Infiniti predicts that around 5000 deaths a year in Europe could be prevented if LDP were fitted to every vehicle.
LDP is part of an array of technology that collectively makes up Infiniti's Safety Shield, an invisible bubble of protection all around the vehicle. Safety Shield integrates different systems in order to manage all accident phases, from risk identification and avoidance to post-crash. Infiniti engineers believe a safe car is not just one that performs well in crash tests, but also one that helps the driver avoid the accident in the first place. Safety Shield is a key factor in Infiniti's aim to halve the number of fatal and serious accidents involving Infiniti vehicles by 2015.
Adaptive Front Lighting (standard on all): Bi-Xenon headlights turn into corners (by up to 17 degrees) with the steering wheel to help the driver see around bends at night. The lighting pattern and aim are controlled automatically.
Around View Monitor (standard on GT Premium and S Premium models): Ensuring complete peace of mind when manoeuvring in tight spots, Around View Monitor relies on wide-angle cameras on the car's front, back and sides to provide a 360-degree bird's eye view of any obstacles - or children - around the vehicle. GT and S models come as standard with a rear-view camera and parking sensors.
Intelligent Brake Assist (standard on GT Premium and S Premium models)
Mitigates damage in nose-to-tail crashes. If IBA detects that a collision with a car in front is imminent, it first warns the driver and then applies the brakes if the driver fails to respond.
Intelligent Cruise Control with Low Speed Following (standard on GT Premium and S Premium models): ICC ensures you are never dangerously close to the vehicle in front when the cruise control is operating. This system uses laser sensors to maintain a set distance to the vehicle ahead, autonomously slowing or accelerating the FX as required. The Low Speed Following function automatically adapts the ICC to provide the same level of protection in slow-moving driving situations such as congested city traffic.
Forward Collision Warning (standard on GT Premium and S Premium models):
FCW warns the driver when there is the risk of a collision ahead.
Tyre Pressure Monitoring (standard on all): Provides total confidence in the condition of the tyres. Transmitters inside each wheel send the air pressures of all four tyres to a dashboard display where the driver can see in an instant if there is a problem. A warning lamp automatically comes on if any one tyre falls below 75% of normal pressure.
Vehicle Dynamic Control with Traction Control (standard on all): Helps prevent skids and improve traction. Infiniti's stability control incorporates electronic safeguards against wheelspin and understeer/oversteer situations on slippery roads. The system automatically adjusts brake pressure and engine torque, helping the driver keep the vehicle on its intended path.
See also:
All-Wheel Drive (AWD) models
All-wheel drive models INFINITI recommends that towing dollies be used when towing your vehicle or the vehicle be placed on a flat bed truck as illustrated. CAUTION Never tow AWD models with any ...
Programming HomeLink®
To program your HomeLink® Universal Transceiver to operate a garage door, gate, or entry door opener, home or office lighting, you need to be at the same location as the device. Note: Garage d ...
Locking with inside lock knob
Locking with inside lock knob To lock the door individually, move the inside lock knob to the lock position 1 then close the door. To unlock, move the inside lock knob to the unlock position 2 . ...