Engine coolant temperature gauge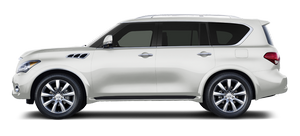 The gauge indicates the engine coolant temperature. The engine coolant temperature is within the normal range when the gauge needle points within the zone 1 shown in the illustration. The engine coolant temperature varies with the outside air temperature and driving conditions.

CAUTION
If the gauge indicates engine coolant temperature near the hot (H) end of the normal range, reduce vehicle speed to decrease temperature. If gauge is over the normal range, stop the vehicle as soon as safely possible. If the engine is overheated, continued operation of the vehicle may seriously damage the engine. See "If your vehicle overheats" in the "6. In case of emergency" section for immediate action required.
See also:
Three-way catalyst
The three-way catalyst is an emission control device installed in the exhaust system. Exhaust gases in the three-way catalyst are burned at high temperatures to help reduce pollutants. WARNING • The ...
4WD shift indicator
The 4WD shift indicator is displayed in the vehicle information display. The indicator should turn off within 1 second after placing the ignition switch in the ON position. While the engin ...
Doors
When the doors are locked using one of the following methods, the doors can not be opened using the inside or outside door handles. The doors must be unlocked to open the doors. WARNING ● Al ...