CD/DVD/USB memory care and cleaning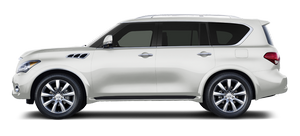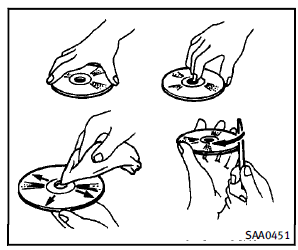 CD/DVD
► Handle a CD/DVD by its edges. Never touch the surface of the disc. Do not bend the disc.
► Always place the discs in the storage case when they are not being used.
► To clean a disc, wipe the surface from the center to the outer edge using a clean, soft cloth. Do not wipe the disc using a circular motion. Do not use a conventional record cleaner or alcohol intended for industrial use.
► A new disc may be rough on the inner and outer edges. Remove the rough edges by rubbing the inner and outer edges with the side of a pen or pencil as illustrated.
USB memory
►Never touch the terminal portion of the USB memory.
► Do not place heavy objects on the USB memory.
► Do not store the USB memory in highly humid locations.
► Do not expose the USB memory to direct sunlight.
► Do not spill any liquids on the USB memory. Refer to the USB memory Owner's Manual for the details.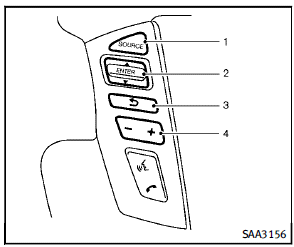 1. Audio source switch
2. Menu control switch
3. Back switch
4. Volume control switch
See also:
Cruise control operations
The cruise control allows driving at a speed between 25 - 89 MPH (40 - 144 km/h) without keeping your foot on the accelerator pedal. To turn on the cruise control, push the ON·OFF switch on. The CR ...
Environmental factors influence the rate of corrosion
Moisture Accumulation of sand, dirt and water on the vehicle body underside can accelerate corrosion. Wet floor coverings will not dry completely inside the vehicle, and should be removed for ...
Towing your vehicle
When towing your vehicle, all State (Provincial in Canada) and local regulations for towing must be followed. Incorrect towing equipment could damage your vehicle. Towing instructions are available f ...