Car phone or CB radio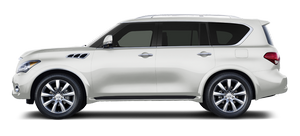 When installing a car phone or a CB radio in your vehicle, be sure to observe the following cautions, otherwise the new equipment may adversely affect the electronic control modules and electronic control system harness.

WARNING

► A cellular phone should not be used for any purpose while driving so full attention may be given to vehicle operation. Some jurisdictions prohibit the use of cellular phones while driving.
► If you must make a call while your vehicle is in motion, the hands-free cellular phone operational mode (if so equipped) is highly recommended. Exercise extreme caution at all times so full attention may be given to vehicle operation.
► If a conversation in a moving vehicle requires you to take notes, pull off the road to a safe location and stop your vehicle before doing so.

CAUTION
► Keep the antenna as far away as possible from the electronic control modules.
► Keep the antenna wire more than 8 in (20 cm) away from the electronic control system harness. Do not route the antenna wire next to any harness.
► Adjust the antenna standing-wave ratio as recommended by the manufacturer.
► Connect the ground wire from the CB radio chassis to the body.
► For details, consult an INFINITI retailer.
See also:
Event Data Recorders (EDR)
This vehicle is equipped with an Event Data Recorder (EDR). The main purpose of an EDR is to record, in certain crash or near crash-like situations, such as an air bag deployment or hitting a road obs ...
Cleaning interior
Occasionally remove loose dust from the interior trim, plastic parts and seats using a vacuum cleaner or soft bristled brush. Wipe the vinyl and leather surfaces with a clean, soft cloth dampened in ...
Automatic transmission
7 speed automatic transmission The automatic transmission in your vehicle is electronically controlled by a transmission control module to produce maximum efficiency and smooth operation. Shown on t ...