Engine protection mode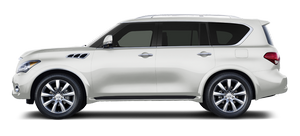 The engine has an engine protection mode to reduce the chance of damage if the coolant temperature becomes too high (for example, when climbing steep grades in high temperature with heavy loads, such as when towing a trailer). When the engine temperature reaches a certain level:
► The engine coolant temperature gauge will move toward the H position.
► Engine power may be reduced.
► The air conditioning cooling function may be automatically turned OFF for a short time (the blower will continue to operate). Engine power and, under some conditions, vehicle speed will decrease. Vehicle speed can be controlled with the accelerator pedal, but the vehicle may not accelerate at the desired speed. The transmission will downshift or upshift as it reaches prescribed shift points. You can also shift manually. As driving conditions change and engine coolant temperature is reduced, vehicle speed can be increased using the accelerator pedal, and air conditioning cooling function will automatically be turned back ON. If: 1. The engine coolant temperature is not reduced. 2. The air conditioning cooling function does not turn back ON. 3. The engine oil pressure warning light

illuminates or engine coolant temperature gauge does not return to the normal range from the H position, this may indicate a malfunction. Move the vehicle off the road to a safe area and allow the engine to cool. If after checking the oil and coolant, the

remains on or engine coolant temperature does not return to the normal range, do not continue to drive and contact an INFINITI retailer. The Malfunction Indicator Light (MIL)

may also come ON. You do not need to have your vehicle towed, unless it remains on, but have it inspected soon by an INFINITI retailer. See "Warning/indicator lights and audible reminders" in the "2. Instruments and controls" section.

WARNING
Overheating can result in reduced engine power and vehicle speed. The reduced speed may be lower than other traffic, which could increase the chance of a collision. Be especially careful when driving. If the vehicle cannot maintain a safe driving speed, pull to the side of the road in a safe area. Allow the engine to cool and return to normal operation. See "If your vehicle overheats" in the "6. In case of emergency" section.

CAUTION
Running the engine with the engine oil pressure warning light on could cause serious damage to the engine almost immediately. Such damage is not covered by warranty. Turn off the engine as soon as it is safe to do so.
See also:
USB input operation (if so equipped)
USB input operation (if so equipped) Audio main operation Open the console lid and connect a USB memory 1 as illustrated. Then, push the DISC·AUX or AUX button repeatedly to switch to the USB memo ...
Washing
Wash dirt off with a wet sponge and plenty of water. Clean the vehicle thoroughly using a mild soap, a special vehicle soap or general purpose dishwashing liquid mixed with clean, lukewarm (never hot) ...
Universal Serial Bus (USB) memory
This system supports various USB memory sticks, USB hard drives and iPod players. There are some USB devices which may not be supported with this system. ● Make sure that the USB device is conn ...