Break-in schedule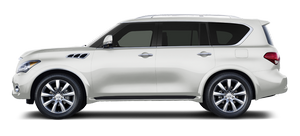 CAUTION
During the first 1,200 miles (2,000 km), follow these recommendations to obtain maximum engine performance and ensure the future reliability and economy of your new vehicle. Failure to follow these recommendations may result in shortened engine life and reduced engine performance.
► Avoid driving for long periods at constant speed, either fast or slow. Do not run the engine over 4,000 rpm.
► Do not accelerate at full throttle in any gear.
► Avoid quick starts.
► Avoid hard braking as much as possible.
► Do not tow a trailer for the first 500 miles (805 km).
See also:
Manual control
While using the voice recognition system, it is possible to select menu options by using the steering wheel controls instead of speaking voice commands. This can be especially helpful if the noise of ...
Welcome light
To activate or deactivate the welcome light function, perform the following procedure. 1. Push the ignition switch to the ON position. 2. Open the driver's side door. 3. Within 20 seconds ...
Maximum load limits
Maximum trailer loads Never allow the total trailer load to exceed the value specified in the "Towing load/ specification" later in this section. The total trailer load equals trailer weight pl ...