Power steering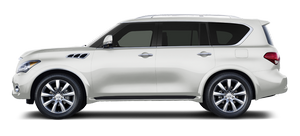 WARNING
If the engine is not running or is turned off while driving, the power assist for the steering will not work. Steering will be harder to operate. The power assisted steering uses a hydraulic pump, driven by the engine, to assist steering. If the engine stops or the drive belt breaks, you will still have control of the vehicle. However, much greater steering effort is needed, especially in sharp turns and at low speeds.
See also:
2011 Infiniti QX56 Review
Whenever I said anything good about the 2011 Infiniti QX56 to curious onlookers, their universal comeback was, "But it's so ugly." The 2011 Infiniti QX56's luxurious interior, composed r ...
California perchlorate advisory
Some vehicle parts, such as lithium batteries, may contain perchlorate material. The following advisory is provided: "Perchlorate Material - special handling may apply, See www.dtsc.ca.gov/hazardousw ...
Tire equipment
SUMMER tires have a tread designed to provide superior performance on dry pavement. However, the performance of these tires will be substantially reduced in snowy and icy conditions. If you op ...