Cleaning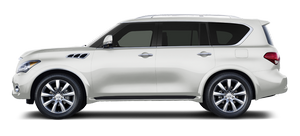 If your windshield is not clear after using the windshield washer or if a wiper blade chatters when running, wax or other material may be on the blade or windshield. Clean the outside of the windshield with a washer solution or a mild detergent. Your windshield is clean if beads do not form when rinsing with clear water. Clean each blade by wiping it with a cloth soaked in a washer solution or a mild detergent. Then rinse the blade with clear water. If your windshield is still not clear after cleaning the blades and using the wiper, replace the blades. Worn windshield wiper blades can damage the windshield and impair driver vision.
See also:
Automatic transmission
All-Wheel Drive (AWD) models: Do not tow an AWD vehicle with any of the wheels on the ground. Two-Wheel Drive (2WD) models: To tow a vehicle equipped with an automatic transmission, an appropriate ...
If your vehicle overheats
CAUTION • Do not continue to drive if your vehicle overheats. Doing so could cause engine damage or a vehicle fire.• To avoid the danger of being scalded, never remove the radiator cap while the engi ...
Trunk release power cancel switch
Trunk release power cancel switch When the switch located inside the glove box is in the OFF position A , the power to the trunk lid will be canceled and the trunk lid cannot be opened by the tru ...