Flat towing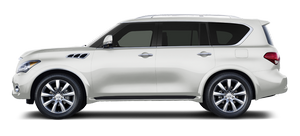 Towing your vehicle with all four wheels on the ground is sometimes called flat towing. This method is sometimes used when towing a vehicle behind a recreational vehicle, such as a motor home.

CAUTION
► Failure to follow these guidelines can result in severe transmission damage.
► Whenever flat towing your vehicle, always tow forward, never backward.
► DO NOT tow any automatic transmission vehicle with all four wheels on the ground (flat towing). Doing so WILL DAMAGE internal transmission parts due to lack of transmission lubrication.
► DO NOT tow an Four-Wheel Drive (4WD) vehicle with any of the wheels on the ground. Doing so may cause serious and expensive damage to the powertrain.
► For emergency towing procedures refer to "Towing recommended by INFINITI" in the "6. In case of emergency" section of this manual.
Automatic Transmission
Four-Wheel Drive (4WD) models:
Do not tow a 4WD vehicle with any of the wheels on the ground.
Two-Wheel Drive (2WD) models:
To tow a vehicle equipped with an automatic transmission, an appropriate vehicle dolly MUST be placed under the towed vehicle's drive wheels. Always follow the dolly manufacturer's recommendations when using their product.
See also:
Auto closure
If the lift gate is pulled down to a partly open position, the lift gate will pull itself to the closed position. Do not apply excessive force when the auto closure is operating. Excessive for ...
Driving safety precautions
Your INFINITI is designed for both normal and off-road use. However, avoid driving in deep water or mud as your INFINITI is mainly designed for leisure use, unlike a conventional off-road vehi ...
Cockpit
1. Instrument brightness control switch 2. TRIP/RESET switch for twin trip odometer 3. Headlight, fog light and turn signal switch — Headlight — Turn signal — Fog light 4. Steering-whe ...