Flat towing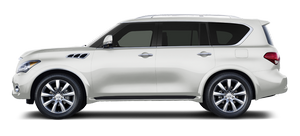 Towing your vehicle with all four wheels on the ground is sometimes called flat towing. This method is sometimes used when towing a vehicle behind a recreational vehicle, such as a motor home.

CAUTION
► Failure to follow these guidelines can result in severe transmission damage.
► Whenever flat towing your vehicle, always tow forward, never backward.
► DO NOT tow any automatic transmission vehicle with all four wheels on the ground (flat towing). Doing so WILL DAMAGE internal transmission parts due to lack of transmission lubrication.
► DO NOT tow an Four-Wheel Drive (4WD) vehicle with any of the wheels on the ground. Doing so may cause serious and expensive damage to the powertrain.
► For emergency towing procedures refer to "Towing recommended by INFINITI" in the "6. In case of emergency" section of this manual.
Automatic Transmission
Four-Wheel Drive (4WD) models:
Do not tow a 4WD vehicle with any of the wheels on the ground.
Two-Wheel Drive (2WD) models:
To tow a vehicle equipped with an automatic transmission, an appropriate vehicle dolly MUST be placed under the towed vehicle's drive wheels. Always follow the dolly manufacturer's recommendations when using their product.
See also:
How to use INFO button
The display screen shows vehicle and navigation information for your convenience. The information shown on the screen should be a guide to determine the condition of the vehicle. See the follo ...
Roof rack
Always distribute the luggage evenly on the roof rack. Do not load more than 221 lb (100 kg) on the roof rails. Observe the maximum load limit shown on the crossbars or roof carriers when yo ...
Rear
Manual transmission models To open the ashtray, pull the lid down 1 . To empty the ashtray, push down 2 , and pull out. ...