Flat towing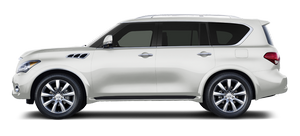 Towing your vehicle with all four wheels on the ground is sometimes called flat towing. This method is sometimes used when towing a vehicle behind a recreational vehicle, such as a motor home.

CAUTION
► Failure to follow these guidelines can result in severe transmission damage.
► Whenever flat towing your vehicle, always tow forward, never backward.
► DO NOT tow any automatic transmission vehicle with all four wheels on the ground (flat towing). Doing so WILL DAMAGE internal transmission parts due to lack of transmission lubrication.
► DO NOT tow an Four-Wheel Drive (4WD) vehicle with any of the wheels on the ground. Doing so may cause serious and expensive damage to the powertrain.
► For emergency towing procedures refer to "Towing recommended by INFINITI" in the "6. In case of emergency" section of this manual.
Automatic Transmission
Four-Wheel Drive (4WD) models:
Do not tow a 4WD vehicle with any of the wheels on the ground.
Two-Wheel Drive (2WD) models:
To tow a vehicle equipped with an automatic transmission, an appropriate vehicle dolly MUST be placed under the towed vehicle's drive wheels. Always follow the dolly manufacturer's recommendations when using their product.
See also:
Recording CDs
1. Operate the audio system to play a CD. For the details of playing CDs, see "Compact Disc (CD) player operation". 2. Select the "Start REC" or "REC" key. NOTE: • The system starts playing and ...
Antenna
Window antenna The antenna pattern is printed inside the rear window. CAUTION • Do not place metalized film near the rear window glass or attach any metal parts to it. This may cause poor reception ...
Changing engine oil and filter
Vehicle set-up 1. Park the vehicle on a level surface and apply the parking brake. 2. Run the engine until it reaches operating temperature. 3. Turn the engine off and wait more than 15 min ...